Federalist Society
About
The Federalist Society for Law and Public Policy Studies is a group of conservatives and libertarians interested in the current state of legal order. It is founded on the principles that the state exists to preserve freedom, that the separation of governmental powers is central to our Constitution, and that the duty of the judiciary is to say what the law is, not what it should be.
Officers
President
James Doyle
jdoyle1@law.stetson.edu
Vice President
John Liptak
jliptak@law.stetson.edu

Treasurer
Zachary Liebetreu
zliebetreu@law.stetson.edu
Secretary
Madeleine Dow
mdow@law.stetson.edu
Events
Professor Bruce Jacob, Stetson law alumnus, and former Dean, speaks to students about his experience arguing the landmark criminal defense case Gideon v. Wainwright, which established the Office of the Public Defender. Jacob was only three years out of law school and represented the State of Florida through Wainwright, who was in charge of the Florida Department of Corrections at the time.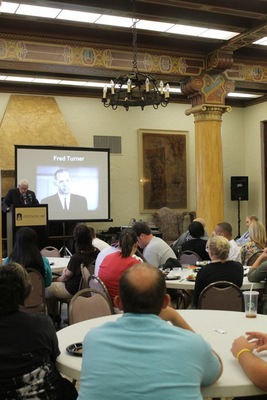 Robert Levy, chair of the CATO Institute's Board of Directors and public interest attorney guru, speaks to students about his experience in arguing on behalf of Mr. Heller of DC v. Heller.