Keynote Speaker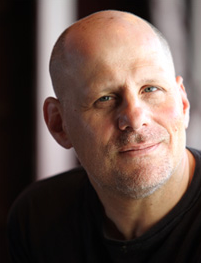 Eric Weiner - Author, The Geography of Genius, The Geography of Bliss, and Man Seeks God
A wry yet sincere searcher for happiness and the divine.
Eric can't keep away from the big questions. His book, The Geography of Bliss, was about happiness (big topic); and, Man Seeks God, is about, well, God (even bigger topic). But as you know if you've read Bliss, Eric has the special ability to take these big questions and make them personal: he brings an everyman's perspective, immediately sympathetic, full of humor, insight, and even self-doubt, that makes everything he talks about funny and real. He calls it "funny/serious": a unique balance of skepticism and sincerity. Now, Eric seeks to answer the question of how creative genius flourishes in specific places at specific times. He explores the history of places from ancient Athens to Renaissance Florence to modern-day Silicon Valley in his New York Times bestseller The Geography of Genius. It's being published in 15 countries, from Bulgaria to Vietnam.
Since Eric's a former international correspondent for NPR and The New York Times, when he has questions, he travels. The Geography of Bliss took him from Bhutan, where the government measures the country's well-being by its Gross Domestic Happiness, to Iceland, where strong communities and stiff drinks keep citizens cheery in the brutal cold. In Man Seeks God: My Flirtations With The Divine, Eric is prompted by a health scare to explore the world's religions and try them on for size. It's an amazing story filled with such memorable characters as the UFO-worshiping Raëlians and the great Nepalese Buddhist sage Wayne-from-Staten-Island, but also a very real spiritual journey that teaches Eric deep truths. As the world grows more connected, a real understanding of global faiths only becomes more crucial. More personally, Eric's talks could create a safe space for exploring these traditions outside the spin zone, or just a chance to glean some knowledge from these ancient teachings. Whatever your angle, you'll leave Eric's talks smiling — and a little wiser, too.
Stetson R.E.A.D - Exploring Human Connection and Bliss
12:30 to 1:30 p.m. | Marshall and Vera Lea Rinker Welcome Center, Lynn Presentation Room
Our Stetson R.E.A.D. (Reflect, Engage & Affirm Diversity; Read Eat And Discuss) event, sponsored by the DuPont Ball Library, will include lunch and reflective conversation around this year's common read: The Geography of Bliss. Participants will have the opportunity to engage in contemplative dialogue with Stetson R.E.A.D. founder and facilitator, Dr. Rajni Shankar-Brown, Associate Professor and Jessie Ball duPont Chair of Social Justice Education, and co-facilitator, Lindsey Graves, Assistant Director of Interfaith Initiatives, as well as briefly converse with the New York Times bestselling author Eric Weiner. Information on the 2018-19 R.E.A.D. Program, which is open to faculty, staff, and students, will also be shared.
Cultural Credit approved. Spots are limited for this event, participants must RSVP if they plan to attend.