Speaker and Common Read
Irshad Manji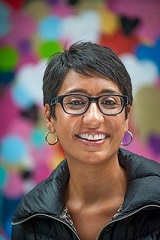 The New York Times describes Prof. Irshad Manji as "Osama bin Laden's worst nightmare." She is a faithful Muslim and a champion of moral courage, which means doing the right thing in the face of your fears. Oprah has given Irshad the first annual Chutzpah Award for "audacity, nerve, boldness and conviction."
Irshad produced the Emmy-nominated film, Faith Without Fear, which shows how she has risked her life to stand for an Islam that respects human rights and personal liberty.
She is also the author of two books about religious reform, The Trouble with Islam Today (2004) and Allah, Liberty & Love (2011). Her books are banned in some countries and best sellers in others.
As a media entrepreneur, Irshad founded the award-winning Moral Courage Project. Called "the most inspiring channel on YouTube," Moral Courage TV features everyday people who are standing up when others want them to sit down.
Irshad is now writing her next book, Don't Label Me, a provocative new take on diversity that will inspire all of us to rethink how we view each other -- and ourselves.
Keynote Address - The Diversity Dilemma
For the acclaimed author and media entrepreneur, Irshad Manji, diversity does not stop at demographics. Being truly inclusive means we must equip ourselves to explore different points of view within identity groups.
Here is the dilemma: How do we hold honest and constructive conversations in our era of deep polarization?
According to Irshad, it starts with developing "moral courage" in ourselves. With a passionate keynote, she will guide us through taboo-riddled terrain. Expect to be inspired, unsettled and invited to disagree – in the name of real diversity.
Stetson R.E.A.D.
We have selected Irshad Manji's book, Allah, Liberty, and Love: The Courage to Reconcile Faith and Freedom, for this years Values Day Common Read. Books will be available for pick in the DuPont Ball Library first come first serve.
On Values Day we will host our Stetson R.E.A.D. (Read Engage And Discuss; Reflect Engage & Affirm Diversity) event will include lunch and community dialogue on the book Allah, Liberty, and Love: The Courage to Reconcile Faith and Freedom. Participants will have the opportunity to briefly converse with the author, Dr. Irshad Manji, and engage in contemplative dialogue. R.E.A.D. founder and facilitator, Dr. Rajni Shankar-Brown, Associate Professor and Jessie Ball duPont Chair of Social Justice Education, and co-facilitator, Ms. Lindsey Graves, Assistant Director of Interfaith Initiatives, will also share information on the 2017-2018 R.E.A.D. Program, which is open to faculty, staff, and students.
Spots are limited for this event, participants must RSVP if they plan to attend.