Sandra Peter
Associate Director of Choral Activities Visiting Associate Professor
Sandra Peter is a choral conductor, clinician, composer and consultant throughout the United States and abroad.
DMA, choral conducting, University of Iowa
M.Mus., vocal performance, University of Arizona
BA, music education, Concordia College, Moorhead, MN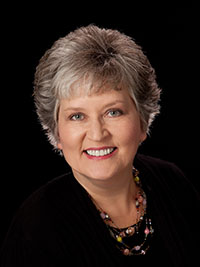 Biography
Sandra Peter is the Acting Director of Choral Activities at Stetson University (DeLand, FL) and conducts Choral Union and the Stetson Men. She recently served as a Guest Conductor for Magnum Chorum (Minneapolis, MN), Interim Director of Choirs at Florida Gulf Coast University, and Visiting Professor of Music at Macalester College. From 1991-2013, Peter taught in the music department and conducted choirs at Luther College, Decorah, Iowa. She was a part of a team of colleagues that saw extraordinary growth to Luther's music program. During this time period choral participation increased from 350 singers in five choirs to 550 students in six choirs, and the program remains strong today. Her ensembles at Luther, Aurora (select first-year women, 100 voices) and Cathedral Choir (select second-year students, 100 mixed voices) toured annually, released recordings, commissioned pieces, and performed at conferences. For over twenty years Peter served on the artistic committee and conducted Christmas at Luther, an Emmy Award-winning event that is televised annually nationwide. She has conducted All-State and honor choirs in twenty U. S. states, as well as in Singapore and Oman. Recent teaching residencies include engagements at Syracuse University and Augustana University (Sioux Falls, SD).
Actively involved in the process of creating new music, her choirs have premiered works by Libby Larsen, Eric Whitacre, Stephen Paulus, Ola Gjeilo, Jocelyn Hagen, Shawn Kirchner, Kevin Jay Isaacs, Abbie Betinis, Timothy Takach, Edie Hill, Gwyneth Walker, Mack Wilberg, Aaron David Miller, Daniel Kallman, Ben Allaway, and Melba Williamson. A skilled choral arranger, Dr. Peter's works are published by MorningStar Music, Carl Fischer Music, and the Neil Kjos Company. She is also a contributor to Conducting Women's Choirs: Strategies for Success (GIA Publications, 2012). Luther College Aurora recordings, Finding a voice (2006) and Using our voice (2010) are available online.
Peter is an active member of American Choral Directors Association, the College Music Society, Chorus America, and a charter member of The National Collegiate Choral Organization. She has been invited to speak at national meetings of both NCCO and ACDA and has performed in and conducted ensembles at several regional and national ACDA conferences. Her experience includes many years conducting choirs of all ages at First Lutheran Church in Decorah, Iowa, and most recently serving as Director of Music at First Presbyterian Church in DeLand, FL. She was a founding member of the National Lutheran Choir. A native of Saint Paul, Minnesota, Peter holds degrees from Concordia College (Moorhead, MN), University of Arizona and the University of Iowa.
More About Sandra Peter
Areas of Expertise
Building voices through the choral experience
Community building through the ensemble experience
Choral repertoire composed by women
Choral arranging
Course Sampling
Choral Union
Stetson Men
Conducting I, II, III
Chamber Music
Choral conducting
Choral literature
Women in music
"Jeg er saa glad" (Norwegian Carol Medley), arranged for SATB a cappella; Carl Fischer Music, 2018 (forthcoming).
"Silent Night," arranged for SATB divisi, strings, organ or piano; MorningStar Music, 2015.
"Were You There?" arranged for SSAA (with Melba Williamson); MorningStar Music, 2013.
"Mentoring the women's choir through voicing, labeling, and seating," Conducting women's choirs: strategies for success, GIA Publications, 2012.
"Tidings of Comfort and Joy," Christmas at Luther, Twin Cities Public Television, 2012 (DVD).
Using our voice, Aurora, Luther College Recordings, 2010 (CD).
"Patapan," arranged for SSAA; Morningstar Music, 2010.
"Winds Through the Olive Trees," arranged for SATB and oboe; MorningStar Music, 2009.
"Night of Glory, Dawn of Peace," Christmas at Luther, Twin Cities Public Television, 2008 (DVD).
Finding a voice, Pike Kor, Luther College Recordings, 2006 (CD).
"Helping women find a voice: works for women's chorus by Libby Larsen," D.MA, essay, University of Iowa, 2006.