Dione Chandler
A Connecticut native, Dione Chandler grew up in a family of musicians. She holds music degrees from the Florida State University, the University of Southern California, and Rice University. Chandler has been the oboe instructor at Stetson University since February 2014, where she also teaches oboe studio class and reed making, and is a member of the faculty woodwind quintet, Veritate Winds.
She has served on the faculties of Texas Tech University, Florida International University, and as a teaching assistant at the Florida State University. Outside of the university, Dr. Chandler teaches individual lessons in Pinellas and Volusia Counties and, for several years in the past, throughout Broward County (FL) and Dallas (TX) school districts.
In addition to teaching, Dione maintains an active performing career. She is in her twelfth year as Principal Oboist of the Southwest Florida Symphony Orchestra, and regularly plays with many orchestras throughout the state including the Florida Orchestra, Sarasota Orchestra, Orlando Philharmonic, and Palm Beach Opera.
Chandler has performed concertos with the Southwest Florida Symphony Orchestra and the Florida International University Symphony Orchestra. She regularly collaborates with the Palm Beach Chamber Music Festival and the Reflections Chamber Ensemble.
Dione spends many hours volunteering as a court-appointed Guardian ad Litem in Tampa Bay and serving on the Orchestra Committee for the Southwest Florida Symphony Orchestra. She is a member of the Florida Music Educators Association, Florida Bandmasters Association, College Music Society, International Double Reed Society, and the American Federation of Musicians. Previously, she was elected to and served on many other service committees including the Executive Board and as Vice President of AFM, Local 655.
In her free time, she enjoys doing yoga, traveling, and spending time with her wonderful husband and two adorable cats. She feels blessed to have loving family and friends in her life.
Education
D.M., oboe performance, with a certificate in college teaching, Florida State University
M.M., oboe performance, University of Southern California
B.M., oboe performance, Rice University
Publications
"An Overview of the Oboe Works of Simon A. Sargon", DM treatise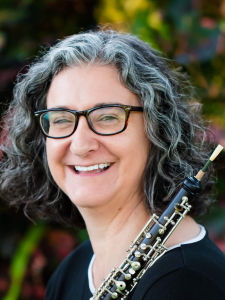 Contact Information