Lou L. Sabina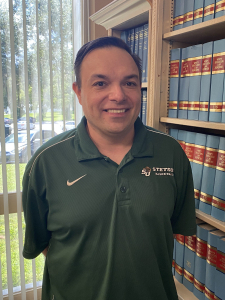 Assistant Professor and Associate Co-Chair of Graduate Education Programs
Education is most effective when leaders understand what systems are in place and what constraints and opportunities they have to better the experiences for all members within those systems.
PhD, educational leadership, University of Pittsburgh
M.BA, business administration, Oklahoma State University
MEd, early childhood education, Edinboro University of Pennsylvania
Certification, school administration, Point Park University
MS, instructional leadership and instructional technology, Robert Morris University
BS, business education, Robert Morris University
Course Sampling
EDUC 503 - History of Higher Education
EDUC 540 - Educational Finance
EDUC 544 - Educational Management and Systems Planning
EDUC 575 - Action Research - Theory to Practice
EDUC 591 - Internship in Educational Leadership
EDUC 332V - The Human Diversity Experience in Professional Wrestling
EDUC 650 - Utilizing Educational Research
EDUC 663 - Psychology of Instruction
EDUC 685 - Directed Study
Areas of Expertise
School Finance
Organizational Theory
Data Analysis
Curriculum Development
Professional Wrestling
Video and Tabletop Gaming
Biography
Lou L. Sabina is currently an assistant professor in the Department of Education at Stetson University in DeLand, Florida, where he teaches courses in educational leadership. He has been in education for the past 21 years and has served as a business, mathematics, computer science, economics, and social studies teacher, as well as an elementary school administrator.

Sabina is a master reviewer with Quality Matters and had reviewed over 150 online courses for accreditation. He has worked for Pearson with educational test development and has worked in accreditation in his three previous positions. In July 2019, Sabina was named the National Education Finance Association representative for Florida, which allows him to expand his research and policy interests to Florida Public Education. Sabina's hobbies include collecting video games (where he owns one of the 10 largest video game collections in the United States), traveling across the United States to amusement parks, saving and rescuing cats, professional wrestling and wine tasting.
Research
Succession planning in schools

Using theories of management to influence how schools function

Restorative practices
International and comparative education
School finance and community demography
Publications
Sabina, L. (2020). State of the States 2019: An analysis of Florida P-20 school finance. Journal of Education Finance.
Huston, J., Sabina, K., Valentino, M., & Sabina, L. (2019). Implementing an early alert workflow process in higher education. Journal of Applied Social Science Research and Practice.
Shankar-Brown, R. & Sabina, L. (2019). Confronting poverty and educational inequities through innovative partnerships: Stetson University and Volusia County School District's Poverty and Homelessness Conference. In N. Jack (Ed.). Strategies for Creating Collaborative Relationships and Addressing Inequities in Education. Hershey, PA: IGI Global.
Sabina, L. (2019). State of the States 2018: An analysis of Montana P-20 school finance. Journal of Education Finance.
Krsmanovic, M., King, K., & Sabina, L. (2018). Where is the equity? Different states, different hurdles and rules for international students. Affordability of and access to U.S. Higher Education for international students. Commission for International Adult Education (CIAE), 159-172.
Sabina, L. & Curry, K. (2018). The practice of administrative supervision in an international context - The case of Vietnam. Journal of Global Education and Research, 1(2) 112-126.
Sabina, L. & Colwell, C. (2018). Challenges of principal succession - Examining challenges of hiring internal vs. external candidates. Athens Journal of Educational Research.
Curry, K., Sabina, L., Sabina, K., Richardson, S., & Mania-Singer, J. (2018). Advancing the promise of educational equity in Belize: A case study. American Journal of Social Science Research, 4(2) 22-32.
Sabina, L., Neupauer, N., & Sabina, K. (2018). Examining community college targeted expansions in a rural environment: The case of Butler County Community College. In M. Reardon & J. Leonard (Eds.).
School-University-Community Collaboration in Education in Higher Education. Charlotte, NC: IAP.
Sabina, L. (2017). State of the States 2016: An analysis of Montana P-20 school finance. Journal of Education Finance, 42(2).
Curry, K. & Sabina, L., & Loffi, J. (2016). Advanced Placement US History and the application of social justice. Administrative Issues Journal, 6(2).