Community Partners
At the CCE, we strive to develop truly collaborative partnerships. As we connect students with community partners, we work to develop opportunities that are mutually beneficial to both students and the community.
We value the knowledge, resources and time our partners share with our students, and we see our partners as co-educators of students. We value the time and energy our partners dedicate to working with Stetson students and hope that the work of students will be of benefit to your organization.
Resources for Community Partners
Global Citizenship Fair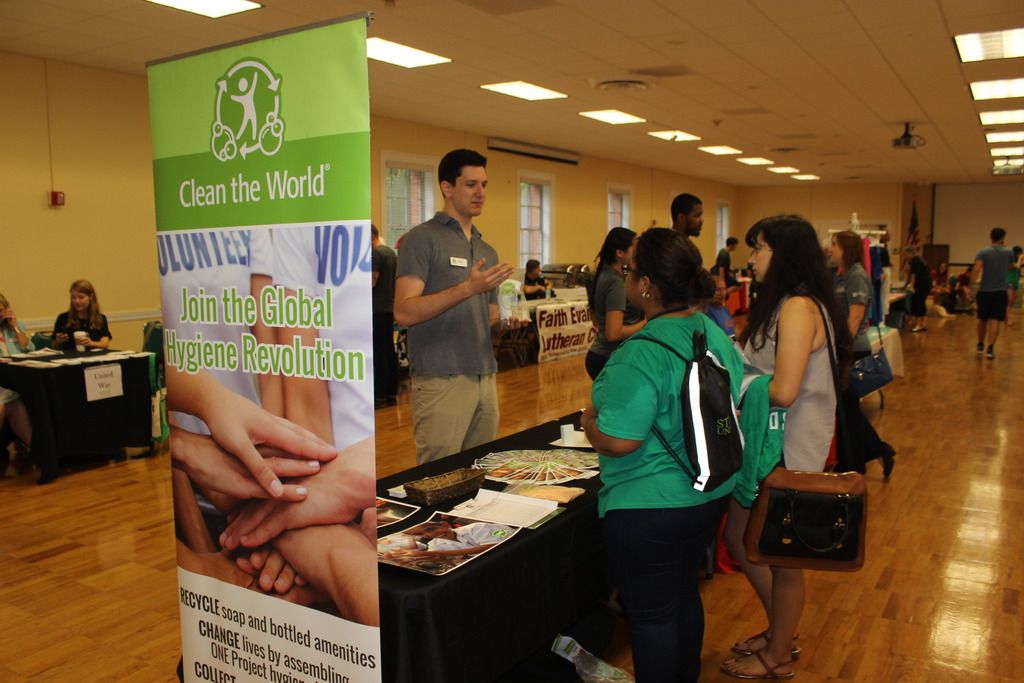 The Global Citizenship Fair is co-hosted by the Center for Community Engagement, WORLD: International Learning, and the Office of Career and Professional Development. It is an opportunity for students to learn more about study abroad programs, internships with non-profit agencies and volunteer opportunities with local community partners.
Look out for more information on the the Fall Global Citizenship Fair held on Wednesday, Sept. 22, 2020 noon-2 p.m.
Look out for more information on the Spring Global Citizenship Fair in January.
Internships
The CCE works closely with the Office of Career and Professional Development to establish and support non-profit internships for Stetson Students. Visit the "Employers" section of stetson.edu/career to learn more about how to start an internship and internship posting policies.
Intern vs. Volunteer: Know the Difference!
Internships

Volunteerism

Focus of Effort: Learning; practicing skills for future career/work in a specific field
Time Commitment: 10-20 hours/week (paid or unpaid)
Supervision: Supervised by an "expert" in the agency; graded by supervising professor in sponsoring academic department

Focus of Effort: Service; meeting identified agency or community needs; any work may be done, as long as it helps someone
Time Commitment: Varies according to desires of volunteer and needs of agency
Supervision: By agency personnel; no grade given.
Greenfeather

Greenfeather is one of Stetson's longest and deepest traditions, establish in 1952 as an autumn charity carnival. Greenfeather has grown immensely since its debut, going into its 64th year, Greenfeather is now fully embedded into Stetson Homecoming transforming it into a weeklong event encompassing more fundraisers and community service opportunities that showcases Stetson's commitment to philanthropy. Learn more about the Greenfeather tradition here.
In the past, Greenfeather encouraged the Stetson community to raise enough money for 10 selected nonprofit organizations in Volusia/Flagler counties to receive a $1,000 grant. Now, a committee composed of students and staff selects one non-profit organization to receive a $10,000 grant for a capacity building project. The change allows the grant to make a larger impact with the selected recipient and gives the recipient an opportunity to be highlighted throughout the Homecoming/Greenfeather festivities.
Each year, the Greenfeather Grant Application is due on Feb. 15.
Past Recipients:
See a sample of the Greenfeather Grant Application.
Community Engagement Recognition & Celebration
At the end of the academic year we host a luncheon on Stetson University's campus recognizing extraordinary accomplishments that Community Partners, Students, Faculty and Staff have done throughout the year.
Community Partner of the Year
New Community Partner of the Year
Extraordinary Act of Service Award (Program/Student)
Volunteer of the Year (Student)
Excellence in Community-Engaged Learning (Faculty)
Giving Tree Award (Staff)
Register to attend the 2020 Community Recognition Banquet in the Stetson Room on April 15.
Become a Community Partner Here
For more information contact the Center for Community Engagement at [email protected].