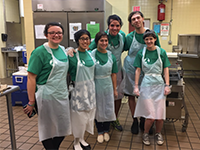 Meals on Wheels
Impact Area: Food & Hunger, Senior Care
Meals on Wheels of Charleston, SC, provides not only a nutritious meal but also a friendly visit and a safety check that helps keep seniors living independently in their own homes. This program serves low-income seniors who are home-bound or have moderate to severe physical restrictions.
Finances
Total Cost: $300 per participant
Payment Plan: 2 payments totaling to $150 ($50, $100), and $150 to be raised through fundraising
*Any amount fundraised over the $150 will be subtracted from the student's balance.
**If at least $150 is not raised through fundraising, it becomes the student's responsibility to pay the remaining amount.