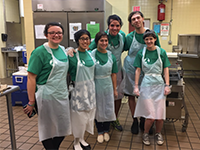 Lowcountry Food Bank
Impact Area: Food & Hunger
Lowcountry Food Bank has fought hunger in the 10 coastal counties of South Carolina for over 30 years. Our mission is to lead the fight against hunger in our community. They have programs in the areas of childhood hunger, senior hunger, nutrition education, and more.
Finances
Total Cost: $300 per participant
Payment Plan: two payments totaling to $150 ($50, $100), and $150 to be raised through fundraising
*Any amount fundraised over the $150 will be subtracted from the student's balance.
**If at least $150 is not raised through fundraising, it becomes the student's responsibility to pay the remaining amount.