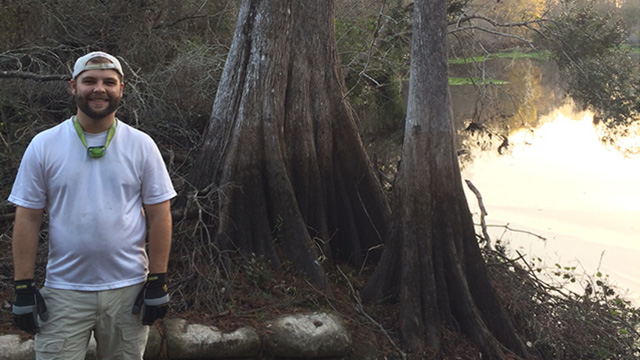 Alumni Success Stories in Environmental Law -
Meet Carson Zimmer
Name: Carson Zimmer
Year Graduated from Stetson Law: 2014
Short Bio: Carson Zimmer works as assistant general counsel for the Florida Department of Environmental Protection.
What was your inspiration for wanting to practice environmental law?
I love to camp and backpack, and both of those activities almost always occur on public lands. After I learned more about the state/federal agencies that oversee the management of land and other natural resources – I knew those were the places where I wanted to have a career.
How did your studies at Stetson Law prepare you for a career in environmental law?
Listening to lectures from the Institute for Biodiversity Law exposed me to topics and issues that I don't think I would have learned about otherwise. I feel my admin law and environmental law classes were particularly helpful in preparing me for the nuts and bolts of the law. Apart from that, Stetson's emphasis on advocacy and writing allowed me to feel like a more well-rounded attorney following graduation than perhaps I otherwise would have felt. Also, one of the best things about going to Stetson was easily connecting with other law students interested in environmental law. Most of us were all on the same wavelength in terms of our career goals, which was really helpful and encouraging.
What sets Stetson's environmental law program apart?
The faculty and the access you get to them as a Stetson student.
How did you benefit from your internship/externship experiences?
Participating in internships was one of the smartest things I did as a student. I was able to work for environmental regulators at both the county and state level, and work for the Office of the Attorney General in New York on a federal suit against the EPA. All of those experiences very accurately exposed me to what a career in public service is like, and were instrumental in helping me get a job in the field.
How did the environmental law faculty members act as mentors for you?
The faculty is the biggest thing that sets Stetson's environmental law program apart. I had fantastic relationships with Professors Long, Gardner, and Boudreaux. They were always available to discuss questions about the career path I wanted, and they were always looking for opportunities to help me grow – even after I graduated. Some of my favorite interactions included taking a swamp walk with Professors Gardner and Boudreaux down in Big Cypress and taking Professor Long's environmental advocacy course.
What opportunities were available to you to contribute legal scholarship on environmental law?
The Journal of International Wildlife Law and Policy and my natural resources seminar were both great experiences that allowed me to pick an environmental law topic and research it in depth. The natural resources seminar was particularly helpful because in addition to two environmental law professors, we had a third professor of biology from Stetson's DeLand campus to provide feedback about what were sometimes complex topics that involved science, law, and policy.
How did your participation in student groups support your studies and your overall law school experience?
I participated in the Environmental Law Society and with the Journal of International Wildlife Law and Policy. For Environmental Law Society, it helped by allowing me to develop relationships with other students interested in environmental law topics, and getting to meet some of the speakers that we invited to our events. It was also nice to get outdoors for clean ups in the community.
Can you offer one tip to prospective students?
As a student, take courses that genuinely interest you with professors you like, and success will come naturally. Use the power of being an intern/extern to work somewhere you would seriously want to (and could) be employed at after graduation, and don't let geography limit your choices.