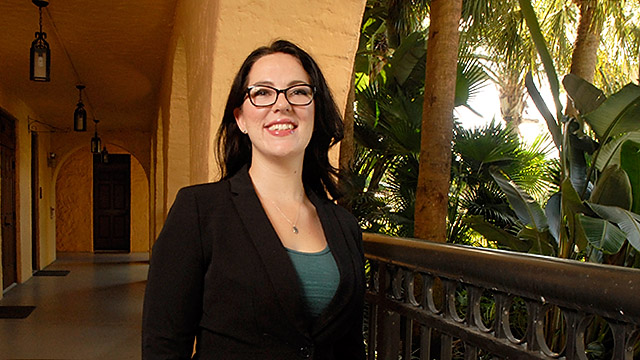 Meet Student and Alumni Veterans - Linda Kay Brown
Name: Linda Kay Brown
Expected Year of Graduation: 2017
Service Branch: Navy
Military Rank: E4
Stationed In: Charleston, S.C.
---
How did military service prepare you for the study of law or for life in general?
The military gave me the dedication and work ethic to put in a long day's work. Everything that you do in the military is all about communication and team work, and I know these same traits are what make a lawyer great.
Were there particular military service experiences that heightened your interest in the law?
Not at all. I was a nuclear mechanic in the Navy, so I was far removed from the idea of practicing law. My experiences were more about learning about different types of valves and how to fix them. It wasn't until I was hired as a paralegal at a firm in Tampa that I realized that I loved law. That's when I knew what I wanted to do with my career.
What do you think civilians should know about those in the service?
That everyone goes into the military for different reasons. There are always those who go into the service to improve themselves and then, sometimes, there are others who go in to help the lives of their loved ones. Whatever the reason is that you find yourself in the armed forces, you come out a completely different person. You transform into a soldier, a marine, a sailor, or a coastie. That training never leaves you. You become dependable, more responsible, and overall a completely different person. The most important thing that you can give a member of the armed forces as a civilian is support even though they are different than you remember them being before they enlisted.
Why did you select Stetson Law? Is the atmosphere supportive of military veterans?
I selected Stetson Law initially because it was near my home. I have a family, and we are always busy. The last thing I wanted to do was to have to move away to go to school and miss out on the beautiful everyday happenings with my loved ones. Once I looked into Stetson, however, I was astonished at how amazing their veterans support staff was. I needed the extra attention of their highly qualified staff to help me with sorting out my GI Bill allowances, etc. It's been easy with Stetson's staff and it's less stress on me in the long run, which is great when you are a first-year law student.
What are your plans for after law school?
I honestly have no idea what I will do after law school. I am interested in doing something with the FBI or maybe Civilian JAG. But then again, I might feel more strongly about going to a firm and learning my trade until I am comfortable going out on my own and starting my own firm. Who knows? I am up for the adventure.