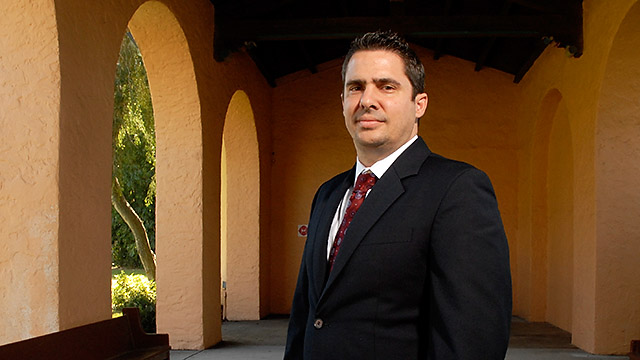 Meet Student and Alumni Veterans - Javier Ojeda Chenard
Name: Javier Ojeda Chenard
Expected Year of Graduation: 2017
Service Branch: ARMY
Military Rank: E4/Specialist
Stationed In: Ft. Leonard Wood, Missouri; Osan AB, South Korea; Ft. Lewis, Washington
Deployments: Operation Enduring Freedom, Bagram, Afghanistan
---
How did military service prepare you for the study of law or for life in general?
Military service enhanced my leadership skills and team work. It taught me to work in adverse and stressful environments, how to keep focus on my objectives, and how to adapt to new circumstances. It exposed me to people from different backgrounds and cultures.
Were there particular military service experiences that heightened your interest in the law?
As a foreign attorney, I practiced law in Cuba before coming to the United States. As an immigrant, I was not sure if I wanted to go back to practice law. After becoming a citizen, I joined the U.S. Army, and it was then that I experienced first-hand the sacrifice that the men and women of the armed forces make, and how difficult life is for them after going back to the civilian life. That's when I decided that I wanted to go back to law school, not only because it's what I know, but also because I want to help other veterans and make a difference.
What do you think civilians should know about those in the service?
The sacrifice that they and their families make, their high level of resilience. Their willingness to do what is necessary to get the job done.
Why did you select Stetson Law? Is the atmosphere supportive of military veterans?
I selected Stetson because the Tampa area is where I first arrived when I came to the United States, and it was my homestead. And because of the outstanding reputation of the school and their friendly personnel when I first came to find information about their programs.
What are your plans for after law school?
After law school, I'm planning on working for the federal government. I will especially try to work for the Department of Veterans Affairs to help other veterans.