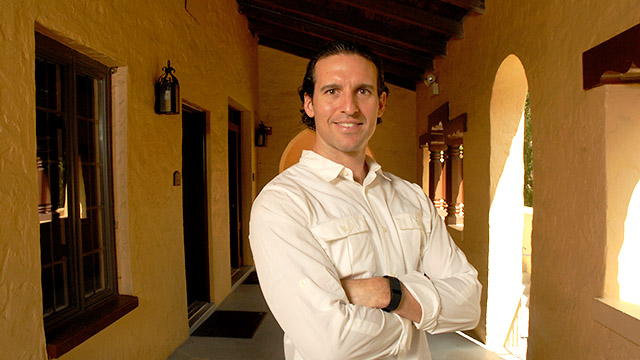 Meet Student and Alumni Veterans - Andrew J. Schillace
Name: Andrew J. Schillace
Expected Year of Graduation: May 2019
Service Branch: United States Marine Corps
Military Rank: Captain
Stationed In: Parris Island, South Carolina; Camp Lejeune, North Carolina; Quantico, Virginia; Monrovia, Liberia; Tel Aviv, Israel; New Port, Rhode Island; Twenty Nine Palms, California; Camp Pendleton, California; Fort Benning, Georgia; Crystal City, Virginia; Tampa, Florida; Afghanistan and Iraq.
---
How did military service prepare you for the study of law or for life in general?
The military gave me the discipline to stay focused and organized for college and law school. During my first year of law school, I appreciated more than anything the military's training that taught me to be an analytical thinker.
Were there particular military service experiences that heightened your interest in the law?
My military career was one in the combat arms field, so my military experiences were the complete opposite of what I expected from the legal field and law school. However, as I learn more about the nature of law I'm finding more and more similarities between the military and the legal world. In both the military and in the court of law, one must be prepared because someone's life might be on the line.
What do you think civilians should know about those in the service?
First, everyone in the service was a civilian before they were in the service. Furthermore, service members are also serving not only for those citizens that cannot serve, but also because they have a deep love for their country. Our country has been at war for close to 15 years and is still at war today. I think too many civilians have forgotten about our war on terror.
Why did you select Stetson Law? Is the atmosphere supportive of military veterans?
What is not to love about Stetson Law? Perfect weather, great professors and it's extremely military friendly! Stetson offers the yellow ribbon program, takes the GI Bill, and has many other veteran friendly programs. I also love that Stetson works with the VA to get veterans benefits they earned and deserve.
What are your plans for after law school?
I really enjoy public service and working in a field that is bigger than one. Unselfishness is caring about others before caring about yourself. I want to continue to serve the public and protect those that cannot protect themselves. In the military, I swore to support and defend the Constitution of the United States of America and I want to continue to do so in the field of law.