Tomer Stein
Bruce R. Jacob Visiting Assistant Professor of Law
B.A., University of Wisconsin-Madison
J.D., University of Texas School of Law
Email: [email protected]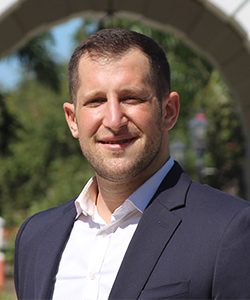 Biography
Professor Tomer Stein focuses his teaching and scholarship on Business Associations (in particular, Corporate Law & Governance), Contracts, Securities Regulation, banking, and Mergers & Acquisitions.
Professor Stein is an active member of the Business Concentration Faculty and acts as the faculty adviser to the Blockchain & Law Society. His publications include forthcoming articles in the Hastings Law Journal and the Buffalo Law Review (as a lead article for a mini-symposium).
Professor Stein previously practiced corporate law at the New York office of Latham & Watkins LLP and as a legal consultant to the capital markets arm of the Royal Bank of Canada. His practice focused on capital markets, general securities and corporate governance matters. Professor Stein's experience includes advising corporate, private equity, and banking clients on a broad range of public and private domestic and cross-border financing transactions, including initial public offerings, high-yield and investment grade debt offerings, follow-on and secondary equity offerings, liability management transactions and committed financings.
Featured Publications
Corporate law is dominated by an equity-only view of corporate governance that centers on management-shareholder dynamics. This Article expands the management-shareholder paradigm by developing a novel integrated theory of corporate governance that fully accounts for the firm's debt.
This Article is the first to systematically examine the rule vs. standard trade-off in private orderings. The Article carries out this task by identifying and analyzing the fundamental asymmetries between the contractual rule vs. standard trade-off and the parallel trade-off taking place in lawmaking.
Additional publications are available on SSRN.
Professor Stein earned his J.D. from The University of Texas School of Law, his B.A. (majoring in Philosophy) from the University of Wisconsin-Madison, and has previously served as a foreign law clerk to Justice Isaac Amit of the Supreme Court of Israel.