TEST Faculty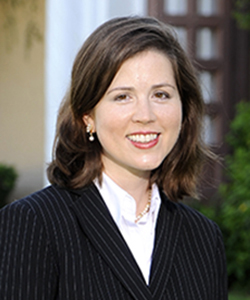 Kristen David Adams
Professor of Law
B.A., Rice University
J.D., Emory Law School
LL.M., Yale Law School
Office: DA-201 (Gulfport)
Courses
Commercial Transactions, International Business Transactions, Payment Systems, Real Property, Law through the Lens of Poetry
Kristen David Adams graduated from Emory Law School with honors in 1995 and received the degree of masters of law from Yale Law School in 2000. While at Emory, she was a managing editor of the Emory Law Journal. Professor Adams received her bachelor of arts degree cum laude from Rice University in 1992. She is a member of both Phi Beta Kappa and the Order of the Coif.
Between the two law degrees, she practiced law for four years in Atlanta, first with Alston & Bird, L.L.C., and later with Altman, Kritzer & Levick, P.C. Professor Adams' practice included extensive work in the areas of general commercial litigation, products liability, medical products litigation, medical and psychiatric malpractice defense, intellectual property, and real estate litigation. During her tenure at Alston & Bird, she participated in the development of the firm's products liability advisory.
While in private practice, Professor Adams' pro bono projects included representing truants before the Fulton County Juvenile Court, co-chairing the Atlanta Legal Aid Society's annual Associate Fundraising Campaign, and serving as an Atlanta legal aid litigation fellow.
Featured Publications
Additional publications are available on SSRN.
Professor Adams co-authored The Practice of Law School: Getting in and Making the Most of Your Legal Education with Christen Civiletto Carey, Esq. This book, which was published in June 2003 by ALM Publishing, a division of American Lawyer Media, is intended to help new law students find out what to expect, how to succeed at every stage, and how to make their law-school experience both fulfilling and relevant to their development as lawyers. Professor Adams, as the holder of the Leroy Highbaugh, Sr. Chair in faculty research for the 2004-05 and 2005-06 academic years, prepared a commercial transactions casebook published by Thomson/West, Commercial Transactions: A Survey of United States Law with International Perspective, and engaged in other research as her primary full-time responsibility during the 2005-06 academic year. A third book, Uniform Commercial Code in a Nutshell, 7th ed., which was coauthored with Bradford Stone, was published by Thomson/West during the summer of 2008, followed by the 8th edition in 2012, and a fourth book, Global Issues in Commercial Law, was published by Thomson/West in 2009 with co-author Claude Rohwer. Her fifth book, CISG Basics: A Guide to International Sales Law, was written with Professor Candace Zierdt. Professor Adams has also written almost twenty law review articles.
Professor Adams is a member of the American Law Institute, a member of Council for the American Bar Association Business Law Section, a commissioner for the American Bar Association Commission on Homelessness and Poverty, a fellow of the American College of Commercial Finance Lawyers, the American Bar Association's Liaison to the Permanent Editorial Board for the UCC, Editor-in-Chief of the UCC Law Journal, the faculty advisor for the College of Law's Dispute Resolution Board, one of the faculty coordinators for the Social Justice Advocacy Concentration, a faculty mentor for LL.M students concentrating their studies on international business, and a member of the Florida Bar's Public Interest Law Section Homelessness Committee.