Faculty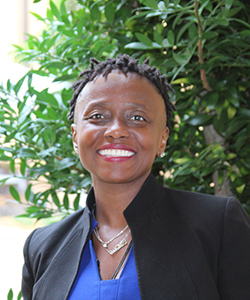 Michèle Alexandre
Dean and Professor of Law
B.A., Colgate University
J.D., Harvard University
Email: [email protected]
Office: Dean's Office (Gulfport)
Dean Michèle Alexandre joined Stetson University College of Law in 2019 and immediately began laying the groundwork for a 2030 vision for the college to expand the curriculum, increase alumni engagement, and forge new community partnerships.
In her inaugural year at Stetson, Stetson Law forged partnerships with The Community Foundation of Tampa Bay and KnowBe4 cybersecurity software company, launched a new Business Law concentration, and spearheaded the creation of the Florida Law Schools' Consortium for Racial Justice (FLSCRJ) with the 12 law schools in the state.
Prior to arriving at the College of Law, Dean Alexandre was an associate dean for Faculty Development and Intellectual Life, Professor of law, and the Leonard B. Melvin, Jr. Lecturer at the University of Mississippi School of Law. She also previously taught at The University of Memphis Cecil C. Humphreys School of Law, American College of Law, The University of Baltimore School of Law, the University of Houston Law Center and Seton Hall University School of Law's Cairo Summer Program.
Dean Alexandre has devoted much of her career to issues of sustainability, economic independence, gender equity and social justice for small farmers and poor populations, including launching the Race and Sustainability Conference at The University of Mississippi. Her scholarly areas include constitutional law, international law, civil rights law, disability law, critical race theory, human rights, and gender. She has received Fulbright and Watson Fellowships. Dean Alexandre is the author of the civil rights textbook, "The New Frontiers of Civil Rights Litigation," and "Sexploitation: Sexual Profiling and the Illusion of Gender."
Featured Publications
The New Frontiers of Civil Rights Litigation examines foundational cases and doctrines from current and evolving civil rights jurisprudence.
Michèle Alexandre's innovative study examines how sexual profiling represses, oppresses, and hinders various aspects of life, and explores the ways in which the law and the community can help eradicate the practice of sexual profiling.
Her accolades include being named one of Ebony Magazine's Top 100 influential African Americans of 2013 and one of the 50 "Most Influential Minority Law Professors 50 Years of Age or Younger" by Lawyers of Color Magazine. She received the Ben A. Hardy Faculty Excellence Award for outstanding teaching, scholarship, and service in 2016. And in 2017, she was selected as an SEC-U Academic Leadership Development Program Fellow for 2017-18. She received the John Mercer Langston Legal Education Leadership Award at the 15th Annual National Black Pre-Law Conference and Law Fair at Columbia Law School in 2019.
Dean Alexandre is the first black valedictorian of Colgate University. She earned her Juris Doctor (J.D.) from Harvard Law School.