Mary Strubbe
Visiting Professor of Law
B.A., Mundelein College
J.D., IIT Chicago-Kent College of Law
Email: [email protected]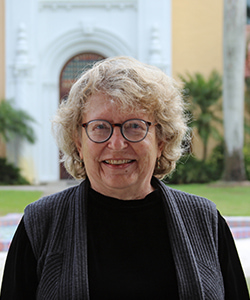 Biography
During her decades-long tenure teaching at her alma mater, Illinois Institute of Technology's Chicago-Kent College of Law, Professor Mary Rose Strubbe earned a stellar reputation in the critical area of legal writing.
Her extensive teaching experience includes courses in legal research and writing, employment law, and estates and trusts. For the third time, she brings her rigorous teaching style and passion for her craft to the Stetson Law community.
At Chicago-Kent, Professor Strubbe directed the school's rigorous legal research and writing program for fifteen years. She was also the Assistant Director of Chicago-Kent's Institute for Law and the Workplace from its inception until her retirement. Upon her retirement in 2017, colleagues, alumni/ae, and friends endowed the Strubbe Writing Prize, which is now awarded each year to an outstanding student paper or article on some aspect of employment law. Prior to her tenure at Chicago-Kent, Professor Strubbe spent more than a dozen years in private practice, with much of her time spent representing employees.