Luz Estella Nagle
Professor of Law
LL.D., Universidad Pontificia Bolivariana
M.A., University of California at Los Angeles
LL.M., University of California at Los Angeles
J.D., College of William and Mary
Phone: 727-562-7814
Email: [email protected]
Office: DA-224D (Gulfport)
Courses
International Law; Transborder Crime and Business Law; Human Rights; Human Trafficking; International Business Transactions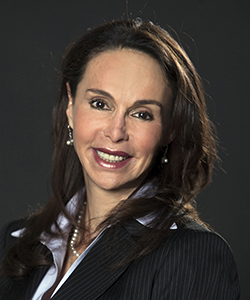 Biography
Professor Luz E. Nagle specializes in international law, international criminal law, transborder criminal law, and national security law. Her career prior to teaching includes having confronted drug lords and political corruption as a young judge in Medellín, Colombia, practicing commercial and employment law with a large Colombian agribusiness, working as an undercover private investigator in Los Angeles, serving as a law clerk to the Supreme Court of Virginia, and pursuing software pirates as a member of Microsoft Corporation's Latin America Copyright Enforcement Practice. She has lectured and presented at the College of William & Mary School of Law, the University of Florida Levin College of Law, the University of South Carolina Walker Institute of International and Area Studies, the University of Tampa Sykes College of Business, Eckerd College, the Copenhagen Business School (Denmark), ISISC—Instituto Superiore Internazionale di Scienze Criminali (Sicily), the Universidad de los Andes (Colombia), EAFIT (Colombia), the Universidad del Magdalena (Colombia), the Universidad del Norte (Colombia), the Universidad de Antioquia (Colombia), the Universidade São Judas Tadeu Faculdade de Direito (Brazil), the Universidad de Granada (Spain), and the Universidad de Salamanca (Spain). Professor Nagle served as a Fulbright Senior Scholar at the Universidad de La Laguna, Tenerife, Canary Islands, during the Fall 2019 semester.
Professor Nagle is an El Centro Fellow of the Small Wars Foundation and an External Researcher in the Strategic Studies Institute of the U.S. Army War College. She has participated in rule of law, judicial reform, anti-corruption/transborder crime, and hemispheric security projects sponsored by the U.S. Departments of Defense, Justice, State, and USAID throughout Latin America. Her past assignments include training Argentine judges and Colombian criminal law professors in accusatory criminal justice reform with the Department of Justice, addressing the deployment of land mines by illegal armed groups in Andean states with the U.S. Army's Foreign Military Studies Office, and working with the Staff Judge Advocate's Office of the U.S. Southern Command in training Colombian military commanders and staff judge advocates at the brigade and division levels in the application of international humanitarian law and coordinating humanitarian operations in conflict zones. She has engaged government officials, military commanders, journalists, and human rights advocates from more than seventy countries as a legal expert with the State Department's Distinguished Foreign Visitor's Program, and she has been a State Department consultant in Colombia, Ecuador, Mexico, Panama, and Venezuela, including teaching international humanitarian law in the Diplomate Program in Security and Northern Border Development at the Universidad Autónoma de Nuevo León, Monterrey, Mexico. In 2018, Professor Nagle went to Ecuador as a U.S. State Department area expert to meet with the national legislature, prosecutors, and law enforcement agencies in efforts to strengthen transborder crime legislation and improve the mechanisms and protocols for foreign asset forfeitures and the recovery of proceeds of crime.
Professor Nagle has dedicated more than two decades of distinguished service to the International Bar Association, currently serving as a Trustee of the IBA's Human Rights Institute Trust. She has served on the IBA Legal Practice Division Council, the Human Rights Institute Council, and was the Latin American Regional Forum Liaison Officer of the Access to Justice and Legal Aid. She is a past Co-Chair of the Criminal Law Section's Sub-Committee on Violence against Women, and former Co-Chair, Vice Chair, and Secretary of the IBA Criminal Law Section. Her special assignments include having served on task forces on terrorism, corruption, criminal justice reform, and as Vice Chair of the IBA President's Task Force against Human Trafficking.
Featured Publications
This book examines the complex interrelationship of human trafficking and the acts of corruption and misconduct that sustain human trafficking and are in turn sustained by human trafficking. The nature and scope of HT, corruption and the role of various actors are explained in detail.
Transborder labor trafficking and forced servitude in the global commercial agriculture sector are serious problems that adversely impact farming communities and labor migration patterns. They also constitute violations of basic human rights with regard to personal liberty, freedom of movement, and the right to work for fair wages. Yet, the farm labor cost savings are a powerful incentive for growers and agribusinesses to engage directly or indirectly through corrupt labor recruiters and brokers in the domestic and transborder trafficking of farm workers.
Additional publications are available on SSRN and ORCID.
Professor Nagle's key activities in the American Bar Association include her current appointment to the Latin America and Caribbean Law Initiative Council. She served on the ABA's Criminal Justice Council, and was Co-Chair of the International Criminal Law Committee. She is a long-time member of the Standing Committee on National Security Law, and she has also worked on several ABA special projects, including the Task Force on the Vienna Convention on Consular Affairs, the Task Force on International Child Abduction, the Special Task Force on the ICC, and the Corruption and the Rule of Law Working Group.
She is an elected member of the American Law Institute, the American Society of International Law (ASIL), the International Association of Prosecutors (IAP), and has affiliated with several other international learned legal societies.
A prolific author of more than fifty publications addressing many topics of international law, international criminal law, judicial reform, and regional security, Professor Nagle's scholarship has appeared in four languages on five continents. A highly regarded international voice in the fight against human trafficking and modern-day slavery, Professor Nagle was part of a select group of international experts appointed by the UN Special Rapporteur on Trafficking in Persons to assess the impact of armed conflict on making people vulnerable to human trafficking, and she served on the inaugural Florida Statewide Task Force on Human Trafficking. She is the author of the 2017 book, Understanding Human Trafficking, Corruption, and the Optics of Misconduct in the Public, Private, and NGO Sectors: Causes, Actors, and Solutions (Carolina Academic Press).
Professor Nagle holds an LL.D. from the Universidad Pontificia Bolivariana (Colombia) with specializations in criminal law and sports law, a J.D. from the College of William & Mary in Virginia, an LL.M. in international law from UCLA School of Law, an M.A. in Latin American studies (law, political science, history) from the University of California at Los Angeles, and two certifications in national security law from the Center for National Security Law at the University of Virginia School of Law.