Lawrence Frolik
Visiting Professor of Law
B.A., University of Nebraska
LL.M. & J.D., Harvard Law
Email: [email protected]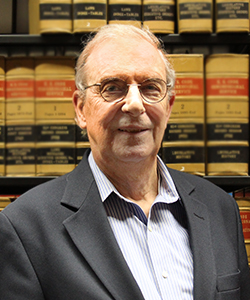 Biography
A pioneer in the area of elder law, Professor Frolik has taught and published extensively on the subject and teaches on core curricula topics such as torts.
He holds an LL.M. and J.D. from Harvard Law School, from which he graduated cum laude in both instances, and a B.A. in English and History from University of Nebraska. Prior to teaching law, he practiced at Lourie & Cutler, a Boston firm specializing in tax, estate, and business matters.
Since 1975, Frolik has taught at the University of Pittsburgh School of Law, where he has served as the John E. Murray Faculty Scholar since 2016 and was named a Distinguished Faculty Scholar in 2011. He has authored, co-authored, or edited over a dozen books pertaining to elder, employment, and other areas of the law as well as over 50 articles and book chapters.
Frolik has been active in dozens of professional and community organizations, including the American College of Trust and Estate Counsel, the National Academy of Elder Law Attorneys (NAELA) Journal, Pennsylvania AARP Executive Council and others.
He received University of Pittsburgh's Excellence in Teaching Award first in 1996 and later in 2008 as well as University of Pittsburgh Chancellor's Distinguished Service Award in 2011. He was awarded University of Nebraska's Outstanding Alumni Award in 1993.