Webinar: Hot Topics in Elder Law
Thursday, August 29, 2019
12 p.m. - 1 p.m. EDT
Online Webinar
Estate Planning in the Digital Age; Florida's New Law on Electronic Legal Documents
Registration Rate: $125
The "Hot Topics in Elder Law" webinar will discuss the timely topic of Florida's new law on Electronic Legal Documents, as the Governor of Florida has signed House Bill 409, an act relating to electronic legal documents. The new law provides for electronic wills, electronic durable powers of attorney, and further provides that these and other electronic legal documents may be executed with a remote notary and remote witnesses appearing by videoconference. How exactly will all of this work? Florida attorneys need to know the ins and outs of the Electronic Legal Documents law and what it means for their clients and their practices.
Please join Ben Diamond, St. Petersburg attorney and Florida State Representative, for a review of the key provisions of the law and a discussion of the many issues and questions it presents.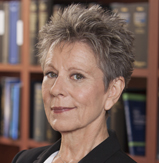 Boston Asset Management Chair in Elder Law
Interim Director, Center for Excellence in Elder Law
Interim Director, M.J. In Aging, Law and Policy
Director, M.J. In Health Care Compliance
The Center for Excellence in Elder Law was established to meet the increasing need for legal education and research in the field of law and aging. The center provides legal education to law students, attorneys, and judges in the field of elder and special needs law and produces scholarly research and writing on issues impacting those who are older and/or have special needs.
Online LL.M. in Elder Law
Students who wish to focus their studies on elder law can enroll in Stetson Law's Online LL.M. in Elder Law program (preferred by July 1), which offers the convenience of 24-hour access to academic courses. For more information, please contact us at [email protected] or 727-562-7393.