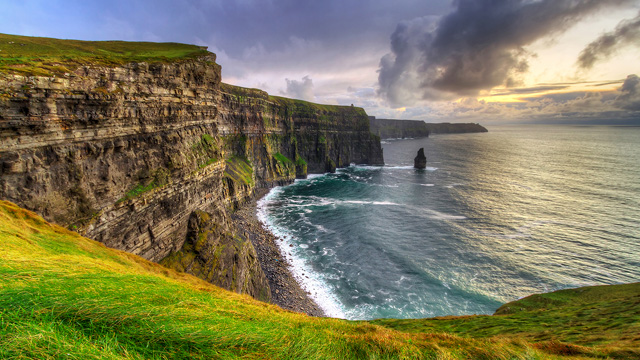 Destination CLE: Dublin, Ireland - Attractions
Things to do and see in Dublin
Dublin has been voted in the top European cities to visit the last number of years so it is no surprise that it offers a great deal to any of its keen visitors. Dublin has its historic side with interesting places such as The Ha'Penny Bridge, Trinity College, Old Jameson Distillery and Dublin's Viking Adventure all situated in Dublin City Centre. For Traditional Irish Music lovers there is The Irish Traditional Music Centre and most of the bars around Temple Bar area.
Being Ireland's Capital, Dublin is the home to some of the largest and most popular events and conference centres in the country. In Dublin City Centre there is Three Arena, which holds concerts, musicals and other conventions. The newly built Aviva Stadium which is the home to all international rugby and football matches. Croke Park which is the GAA home ground, The Grand Canal Theatre and also The Convention Centre Dublin.
Temple Bar
Temple Bar is said to be the cultural centre of Dublin City. It is known as a lively neighborhood that consists of Restaurants, Café's and Bars in Dublin City Centre.
Guinness Storehouse
Fondly called the Storehouse, the Guinness Storehouse is the leading tourist destination in Ireland having received more than 4 million visitors since it opened in 2000.
Grafton Street
Grafton Street lies between Trinity College and St Stephen's Green and was an elegant residential area in the 18th century. Pedestrianized in the 1980s, it is now firmly established as 'the centre for shopping in Dublin' and is often populated with street musicians and entertainers.
National Museum of Ireland
Walk into the National Museum of Ireland on Kildare Street and you are magically transported back in time. A stroll through time will take you all the way back to 7,000BC. The National Museum of Ireland has three locations in Dublin, with a strong emphasis on Irish art, culture, and natural history.
Dublin Castle
Located off Dame Street, Dublin Castle serves as a very important conference centre for the Irish government and is the venue for several major yearly international meetings. The captivating history of Dublin Castle goes back to the 18th century, although an earlier form of the castle was already erected on this area as far back as the 12th century.
Dublin Zoo
Dublin Zoo is the biggest zoo in the island of Ireland, and is located in Phoenix Park. Established in 1830, Dublin Zoo is the world's fourth oldest zoo and is home to more than 235 species of wildlife and animals.
Learn More
Trinity College
Tactically placed in the centre of Dublin at the end of Grafton Street and indicating the beginning of Dame Street, Trinity College is highly accessible and can be very easily reached from any point in Dublin. Trinity College is the oldest and grandest university in Ireland and lies on a 40-acre site just south of O'Connell Street Bridge.
Learn More
Imaginosity
Imaginosity, Dublin Children's Museum is a child-centred creative, educational & interactive space for children under 9-years of age and their families. It is a space for adults and children to engage in creative play. Our exhibits are educationally designed to inspire life-long learning through play, igniting imaginations on the journey from curiosity to discovery.
Learn More
Things to do and see in Ireland
If you are planning on extending your stay in Ireland, here are some places of interest for you to visit.
Newgrange
The Megalithic Passage Tomb at Newgrange was built about 3200 BC. The kidney shaped mound covers an area of over one acre and is surrounded by 97 kerbstones, some of which are richly decorated with megalithic art.
Learn More
The Giant's Causeway
For centuries countless visitors have marveled at the majesty and mystery of the Giants Causeway. At the heart of one of Europe's most magnificent coastlines its unique rock formations have, for millions of years, stood as a natural rampart against the unbridled ferocity of Atlantic storms. Learn More
The Burren
The word "Burren" comes from an Irish word "Boíreann" meaning a rocky place. This is an extremely appropriate name when you consider the lack of soil cover and the extent of exposed Limestone Pavement.
Learn More
The Wild Atlantic Way
The Wild Atlantic Way is set to be Ireland's first long-distance touring route, stretching along the Atlantic coast from Donegal to West Cork.
The Wicklow Way
The countryside of Ireland is a patchwork of many different landscape types, including several mountainous and upland areas. One of the most spectacular of these is in county Wicklow, just south of Dublin, which despite its proximity to the capital contains many kilometers of wonderfully unspoilt mountain trails of which The Wicklow Way is the best known.
Learn More
Glendalough
The Glendalough Valley is located in the Wicklow Mountains National Park and has many attractions to entice, entertain and enthrall visitors from its world famous Monastic Site with Round Tower to its scenic lakes and valleys, as well as a selection of walks and trails in the area including The Wicklow Way.
Learn More
Russborough House
Russborough House in Blessington is situated near the borders of counties Kildare and Wicklow. Nestled in spectacular natural surrounding, there is no other Palladian house in Ireland to rival it aesthetically or architecturally.
Learn More
Powerscourt Estate & Gardens
One of the world's great gardens, Powerscourt is situated 12 miles south of Dublin in the foothills of the Wicklow Mountains. The garden was begun by Richard Wingfield in the 1740s and stretches out over 47 acres.
Learn More