Conference Team: National Conference on Law and Higher Education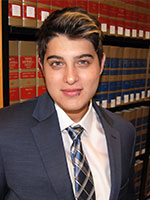 Jack Boyle
Position: Center Volunteer
Expected Graduation Date: May 2021

Jack graduated from the University of Central Florida in the Spring of 2018 with a degree in English Literature. During his time at UCF, Jack worked part-time as a transcriptionist for the deaf and partially deaf, and tutored high school students for their college entrance exams. During his first semester at Stetson Law, Jack was elected as a 1L Student Bar Association Representative. In addition to his involvement with the Student Bar Association, Jack volunteers in the Center for Excellence in Higher Education Law and Policy.