U.S. Rep. John Lewis Speaks to Graduates
Civil rights icon U.S. Rep. John Lewis of Georgia spoke to more than 250 graduates of Stetson University College of Law on May 16 in Gulfport.
"So I say to you as young lawyers, you must find a way to get in the way," said U.S. Rep. Lewis, a lifelong advocate of civil liberties who played a leading role in passing the Voting Rights Act and in ending segregation in America. "You must find a way to get in trouble. Good trouble, necessary trouble to make our country and our world a better place. You must do it."
Born to sharecroppers in Alabama, Lewis attended segregated schools and was inspired by the Montgomery Bus Boycott and the Rev. Martin Luther King, Jr. to join the Civil Rights Movement. As a student at Fisk University, Lewis organized sit-in demonstrations at segregated lunch counters in Nashville, Tenn. In 1961, he joined the Freedom Rides, challenging Jim Crow segregation in the South. At the age of 23, he was speaking to the same enormous crowd who heard King's "I Have a Dream" speech at the historic March on Washington.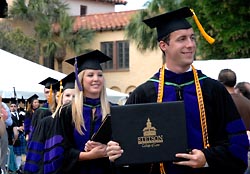 On March 7, 1965, Lewis and Hosea Williams led more than 600 people on The Selma-to-Montgomery March for voting rights. Lewis and others were brutally beaten by state troopers as they crossed the Edmund Pettus Bridge. The event became known as "Bloody Sunday" and led to the passage of the Voting Rights Act.
The graduating law class included 25 students who earned both an M.B.A. and J.D. degree, and 21 part-time students who earned a J.D. degree. Eight students earned LL.M. degrees in international law and three students earned LL.M. degrees in elder law.
Join us on Facebook to view an online photo gallery of Spring Commencement 2009.