International Day of Persons with Disabilities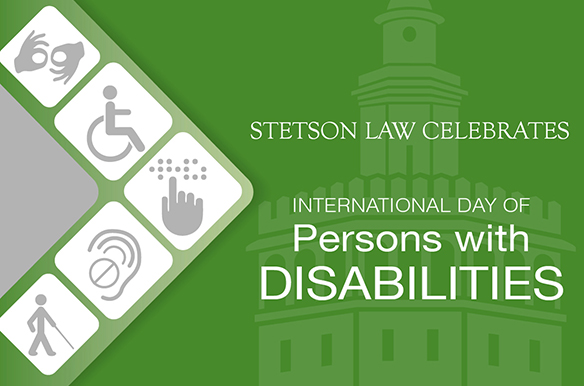 International Day of Persons with Disabilities is celebrated globally on December 3rd each year. The United Nations proclaimed this annual observance in 1992 to spread awareness of disability justice and address systemic issues that exclude persons with disabilities from society.
As a community of learners and advocates for justice and equality, Stetson University College of Law is honored to provide students, faculty, and staff with a resource to learn about disability justice. Those who live with disabilities share a rich and diverse community of individuals whose stories, cultures, and contributions must be amplified. By joining this international celebration, Stetson Law invites you to explore this community resource page.
While this page is the result of a collaborative effort, it is not a comprehensive resource. We encourage students, faculty, and staff to explore other resources and to feel free to share those that may add to the richness of this page. Please email any insights to [email protected].
Events | Learn | Engage | Resources
---
Events
The United Nations
December 5 │ 9 am - 12 pm EST │ Zoom Meeting
This webinar will focus on the role of innovation in fueling an accessible and equitable world. The deadline to register for this event is November 30, 2022.
---
Learn
Facts and Figures
The United Nations

7 billion people: world population
Over 1 billion people in the world have some form of disability, that's 1 in 7
More than 100 million disabled persons are children
50% of disabled persons cannot afford health care
Disability Justice
The Ford Foundation
Disability advocates highlight why disability is important to social justice work and how to be inclusive. "Together we can celebrate how our differences unite us" (The Ford Foundation, 2021) (Duration 5:08)
How the Americans with Disabilities Act Changed the Built World
NPR
Individuals in the disabled community discuss how the passage of the ADA has impacted their lives
Terminology
What is Ableism?
The United United Nations │Human Rights

The United Nations Special Rapporteur explains ableism and its effect on everyone in society (United Nations, 2020) (Duration 2:30)
Disability Civil Rights History
A Guide to Disability Rights Laws
The United States Department of Justice
A resource of Federal Disability Rights Laws that ensure opportunities for people with disabilities
The Capitol Crawl
The U.S. Department of State │Bureau of Global Public Affairs
On March 12, 1990, over 60 protestors with disabilities crawled up the 83 stone steps that lead to the capitol without their mobility-assistance devices to signify the barriers disabled individuals face in the built world. This protest is one of the catalysts to the passage of the Americans with Disabilities Act.
Olmstead v. L.C.
The Americans with Disability Act Archive
Read the landmark Supreme Court ruling that played a major role in classifying mental illness as a disability under the A.D.A.
Disability Justice Pioneers and Advocates
Judy Heumann: Special Advisor for International Disability Rights
United States Department of State
Heumann is responsible for the implementation of national legislation for programs in special education, disability research, vocational rehabilitation, and independent living
---
Engage
EveryBody: An Artifact History of Disability in America
The Smithsonian
Disability history is American history
Anthony Niedwiecki: What kind of jobs are there for students interested in Disability Law?

Niedwiecki highlights how Disability Law intersects with other law areas (The MN Gov. Council on Developmental Disabilities, 2021) (duration 1:11)
Five Things to Know about Assistive Technology
The United Nations

This video explains how assistive technology is important for those who use it. It is important to never touch a person's assistive device without their consent (United Nations, 2021) (Duration 1:07).
---
Resources
Disability Community Network at Stetson Law
ADA Coordinator - Learn more
Disability Allied Law Student Association (DALSA) - Learn more
Resources for Accessibility Across Campus for Students, Faculty, and Staff - Learn more
Elder Law Certificate of Concentration - Learn more about Disability Law