National Native American Heritage Month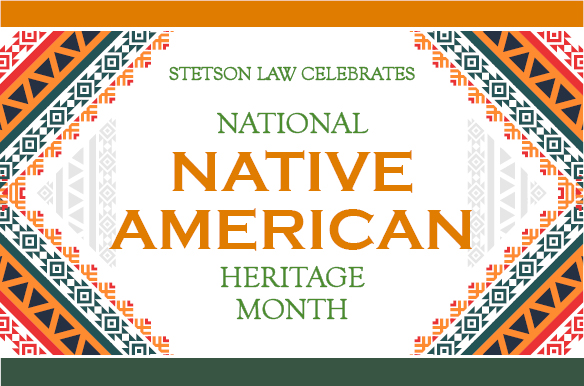 November is recognized as National Native American Heritage Month in both the United States and Canada. It is a time to celebrate the traditions, cultures, and experiences of Native Americans and other indigenous communities.
As a community of learners and advocates for justice and equality, Stetson University College of Law is honored to provide students, faculty, and staff with a resource to learn from and celebrate indigenous and Native American contributions on our campus, throughout the legal profession, and beyond. By joining this national celebration, Stetson Law invites you to explore this community resource page, including local museums and nature parks.
While this page is the result of a collaborative effort, it is not a comprehensive resource. We encourage students, faculty, and staff to explore other online and local resources and to feel free to share those that may add to the richness of this page by emailing [email protected].
The U.S. Secretary of the Department of the Interior, Deb Haaland, wishes everyone a Happy National Native American Heritage Month (U.S. Department of Interior, 2021). To learn more about the U.S. Department of Interior, its history and role in Indian Affairs, and its previous secretaries under other presidential administrations, please visit their website.
Learn | Engage | Visit | Resources
---
Learn
Terminology
Words Matter
National Park Service
Alaska Native: This term refers to the indigenous people of Alaska; the term utilized for those who are non-indigenous and born in Alaska is Native Alaskans.
American Indian: Some tribes prefer Native American. Use specific tribal name(s) whenever possible, accurate, and appropriate. Please also reference the terms, "First Nations", and "tribal names".
First Nation, First Nations: Refers to individuals who are native to Canada and are neither Inuit (people of the Canadian Arctic) nor Métis (descendants of First Nation people who married Europeans). Often used in the plural in the collective sense, as in a program for First Nations youth. The term is widely used in Canada but is not used in the US, except in connection with Métis whose homelands include northwest Minnesota, North Dakota, or other northern states.
Native American: Use if requested by specific tribes or parks.
Tribal name: Use specific tribal name(s) whenever possible, accurate, and appropriate. Also, the preference is to use the singular noun, for example, Navajo, Lakota, and Tlingit.
(Source: National Park Service, 2022)
Inuit or Eskimo: Which Name to Use?
Alaska Native Language Center │ University of Alaska Fairbanks
The term "Eskimo" is now considered unacceptable to most Alaska Natives. The appropriate term to use today is Inuit.
Native American Tribes in Florida
A list of some indigenous Florida tribes
Our Home on Native Land
Native Land Digital
A resource to learn more about the tribal nations who occupied the land historically and today.
The Tocobaga Tribe
Pinellas County
The Tocobaga lived in chiefdoms from Pinellas County to Sarasota County from the 900s - 1500s.
The Seminole Tribe
The Seminole Tribe of Florida
Learn the history and culture of the Seminole Tribe.

The Miccosukee Tribe of Florida
Betty Osceola describes how the Florida Everglades are integral to the Miccosukee Tribe (The Miccosukee Tribe, 2020) (Duration: 1:54).
Language
Indigenous Languages of Alaska
National Park Service
There are at least 20 distinct indigenous languages in Alaska. Learn some phrases in Iñupiaq.
Taíno Language Influence
The Library of Congress
Taínos, the Native people of Boriken now known as Puerto Rico, influenced the culture and language spoken on the island.
Traditions and Culture
Our Food is Our Way of Life
National Park Service
The Tlingit Tribe of now-occupied Alaska believes stewardship of its homeland is an ongoing, respectful interaction with all of its resources. This is how ecological balance is maintained.
National Park Service
Join Julie and Denise as they head out into the bay near Hoonah, Alaska to fish for crab and shrimp, a tradition that Tlingit women have participated in for generations (National Park Service, 2021) (Duration:1:05).

Caribou and Alaska Natives
National Park Service
"The braid of life between caribou and people remains unbroken".
The Native people of Hawai'i
National Park Service
A resource on Hawai'ian culture, exploration, governance, and agriculture.
Taíno: The Native people of the Caribbean
The Smithsonian
Celebrate Taíno culture and their influence on Haiti, Cuba, Jamaica, the Dominican Republic, and Puerto Rico.
Native American Civil Rights History
Native American Graves Protection and Repatriation Act
National Park Service
An act providing the repatriation of Native American human remains and sacred objects.
Blackhorse v. Pro-Football, Inc.
The U.S. Trademark Trial and Appeal Board
This case decided that Washington D.C.'s professional football team's name and mascot are disparaging and canceled their trademark protection.
Violence Against Women Reauthorization Act of 2019
The Department of Justice
Through this act, tribes have greater power to address the missing and murdered indigenous women in their communities.
NPR
Understand the importance of treaties and why they matter to everyone today (NPR, 2017) (Duration 5:20).
Native American Pioneers and Advocates
Alumni Spotlight: Jim Shore
The Seminole Tribune
In 2020 Stetson Law Alumni and the first member of the Seminole tribe to practice law, Jim Shore won the American Bar Associations' Government Attorney of the Year Award.
Stetson Law Advocate Spotlight: Professor Candace Zierdt
Stetson University College of Law
Professor Candace Zierdt has served as Committee Liason with American Indian Tribes and Nations since 2002 as a member of the National Conference of Commissioners on Uniform State Laws. She is on the joint editorial board for Tribal Code Development as an NCCUSL member, and a member of the task force for the implementation of the Model Tribe Secured Transactions Act.
Stetson Law Advocate Spotlight: Professor Grant Christensen
Stetson University College of Law
Professor Christensen is a nationally recognized expert on Federal Indian Law. He has served as a tribal appellate judge for the Standing Rock Sioux, Fort Peck, and Assiniboine Sioux Tribes. Professor Christensen is the co-chair of the ABA Business Law Section's Tribal Litigation Subcommittee and is a peer reviewer for the American Indian Law Review.
Deb Haaland
U.S. Department of Secretary of Interior
Secretary Deb Haaland is the first Native American to serve as Cabinet Secretary for the Department of the Interior. To learn more about previous secretaries under other presidential administrations, please visit the U.S. Department of the Interior's website.
---
Engage
National Bureau of Indian Affairs Photo Archive
National Archives | Bureau of Indian Affairs
Explore by tribal nation, geographic location, or topic in this archive of 18,000 digitized photographs
Why We Serve: Native Americans in the United States Armed Forces
National Museum of the American Indian | The Smithsonian
This exhibit highlights the legacy of Native Americans who served in the armed forces and demonstrates their commitment to protecting their homeland
Poetry: Living Nations, Living Words
Library of Congress
Read the work of 47 Native Nations poets through an interactive Story Map
The Standing Rock resistance and our fight for indigenous rights | Attorney Tara Houska
Ted Talk
Tribal attorney Tara Houska highlights the struggles indigenous tribes face when protecting their land and communities.
"It's incredible what you can do when you stand together," Houska says. "Stand with us -- empathize, learn, grow, change the conversation" (TED, 2018) (Duration: 11:04).
---
Visit
Historical Landmark
Phillippe Park, 2525 Phillippe Parkway, Safety Harbor, FL 34695
The Temple Mound was built by Tampa and Saint Petersburg Natives, the Tocobaga Tribe. It is the largest remaining mound in the Tampa Bay region.
Education Center
1800 Weedon Dr NE, St. Petersburg, FL 33702
Visit the free education center and explore the exhibits on the history and life of the Native American community that called Weedon Island home.
Museum
150 Central Ave, St. Petersburg, FL 33701
The James Museum of Western & Wildlife Art is a museum that highlights Native American life, art, and jewelry.
---
Resources
Seminole Tribe of Florida- Learn more
The Miccosukee Tribe- Learn more
Native American Bar Association - Learn more
Bureau of Indian Affairs- Department of Interior
Bureau of Indian Education- Department of Interior