LGBTQ+ History Month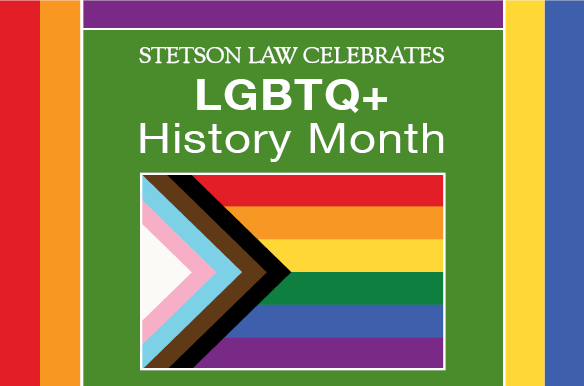 LGBTQ+ History Month is celebrated in the United States from October 1 to October 31 and corresponds with National Coming Out Day on October 11. It also coincides with the first and second historic marches on Washington for LGBTQ+ rights in October 1979 and 1987.
Recognizing that the month of October provides an intersection of cultural observances and celebrations, the following are also commemorated in October: National Disability Employment Awareness Month, National Indigenous Peoples Day on October 10, and the latter portion of National Hispanic Heritage Month.
"LGBTQ+" represents the Lesbian, Gay, Bisexual, Trans+, and Queer communities. The "+" provides greater visibility to identities that are not represented in the acronym.
As a community of learners and advocates for justice and equality, Stetson University College of Law is honored to provide students, faculty, and staff with a resource to learn from and celebrate the history of LGBTQ+ individuals on our campus, throughout the legal profession, and beyond. By joining this national celebration, Stetson Law invites you to explore this community resource page, including the local events and campus events thoughtfully coordinated by Stetson's Lambda Legal Society and Stetson community partners.
While this page is the result of a collaborative effort, it is not a comprehensive resource. We encourage students, faculty, and staff to explore other resources and to feel free to share those that may add to the richness of this page. Please feel free to email any insights to [email protected].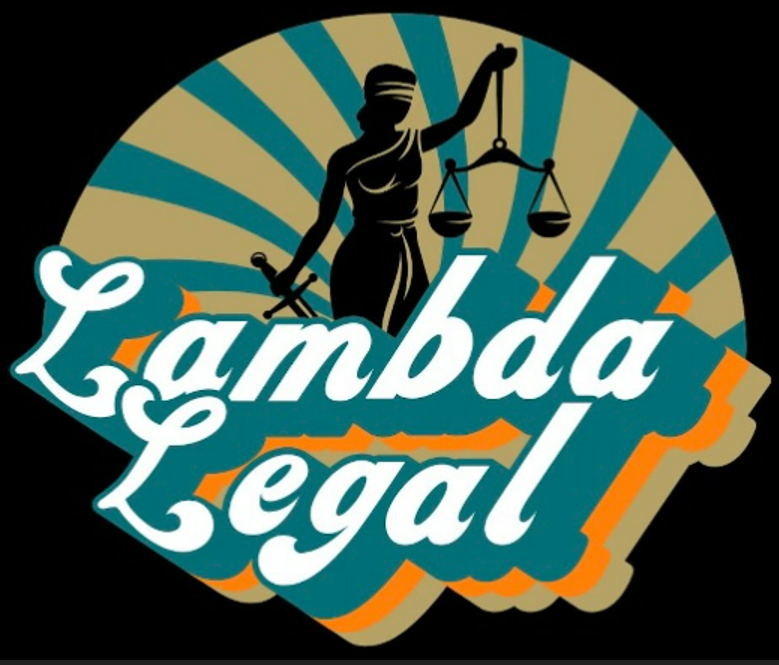 Learn | Engage | Events | Resources
---
Learn
Terminology and Concepts
LGBTQ+ Glossary
Human Rights Campaign
A resource for LGBTQ+ key terms
Two-Spirit Identity
U.S. Department of Health and Human Services - Indian Health Service
Learn more about the Two-Spirit identity tradition
Transgender Identity Terms and Labels
American Bar Association
Key terminology used by some individuals in the transgender community
LGBTQ+ Resources in Business and the Workplace
Library of Congress
A guide to issues that affect the LGBTQ+ community in the workplace
Supporting the Transgender People in your Life
American Bar Association
ABA highlights how to be a good ally to the transgender community
There are many different Pride Flags to represent the many facets of the LGBTQ+ community. This video introduces a few of them (BBC London, 2019).
LGBTQ+ History
The LGBTQ+ Movement from the 1800s to 2018
This video highlights the LGBTQ+ History from the 1800s to 2018 (AARP, 2018)
LGBTQ+ Civil Rights History
Milestone LGBT Civil Rights Cases
Library of Congress
A resource guide for landmark LGBT Civil Rights Cases in the United States of America.
Obergefell v. Hodges
Supreme Court of the United States
Read the landmark Supreme Court opinion requiring states to recognize marriages between same-sex couples
U.S. LGBTQ+ History Series
National Park Service
Review this historical series peer-reviewed by experts in LGBTQ+ Studies and published by the National Park Foundation of the National Park Service
Pride at Stetson Law
Stetson Law Progress Pride Flag Raising
Stetson College of Law Lambda Legal Society made history with the inaugural raising of the Progress Pride flag.
Stetson Law Lambda Pride Scholarship
Former president of Stetson University's Lambda Legal Society, Edson Abadia highlights the many firsts the College of Law has taken to support the LGBTQ+ community, including the creation of the Lambda Pride Scholarship. The scholarship is currently in its fundraising development stage with the goal of being available in the future. If you are interested in donating toward the Lambda Pride Scholarship, please visit Stetson Law Giving.
LGBTQ+ Pioneers and Advocates
LGBTQ+ Community Advocates
American Bar Association
Celebrate LGBTQ+ advocates who have made significant impacts on our society
Harvey Milk
NPR
Harvey Milk was the first openly gay elected official. He won a seat on the San Francisco Board of Supervisors. There are now more than 600 openly gay or lesbian elected officials serving in North America today.
Pauli Murray
The Smithsonian│The National Museum of African American History and Culture
Pauli Murray's arguments influenced and moved Supreme Court Justices, Ruth Bader Ginsburg and Thurgood Marshall. Murray was a lawyer, scholar, and activist who was pivotal in the advancement of civil and women's rights.
LGBTQ+ Veterans' Stories
Library of Congress
Dive into this archive of LGBTQ+ veterans' stories who served from the WWII era to the present
---
Engage
Lived & Learned: Present as your true self, says Mia Yamamoto
American Bar Association
Listen to Mia Yamamoto as she reflects on her experiences as a transgender woman and criminal defense attorney on the American Bar Association Podcast.
Trans Awareness for Legal Professionals: Why it Matters and Tools to Help
American Bar Association
This webinar highlights legal barriers that impact the transgender community and tools to help.
October 10th celebrates Indigenous Peoples Day in the United States. Learn about the intersections of Indigenous heritage and living outside the margins of gender identity (PBS & NPR, 2020).
---
Events
For on-campus events, please refer to the Campus Docket for the most up-to-date event information. For local, non-Stetson events, please click on the applicable links for the latest details.
Lambda Legal Society, Social Justice, and Advocacy Concentration, and the Gulfport LGBT Resource Center
October 12 │ 4:30 PM - 6:00 PM │ The Great Hall
Join Stetson Law in celebrating LGBTQ+ History Month and welcoming guest speaker, Dr. Stephanie Burt. Dr. Burt is a Professor of English at Harvard University who is a prolific poet and literary critic. The New York Times has called her "one of the most influential poetry critics of her generation". Dr. Burt's Stetson Law presentation will center on professional identity and belonging. The evening will feature a Meet and Greet with Dr. Burt, LAMBDA Legal Society, and the Gulfport LGBT Resource Center. Guests will have the opportunity to purchase books and have them signed by Dr. Burt. The presentation will be held from 5:00 pm-6:00 pm in the Great Hall and is open to all members of the Stetson Law community, including students, faculty, and staff. Those who RSVP in advance will have a chance to win a free book. RSVP here.
Hors d'oeuvres will be catered by Canteen Catering at Stetson Law
Gulfport LGBTQ Resource Center, Keep St. Pete Lit, and Your Real Stories
October 12 │ 7:00 PM │ Tombolo Bookstore (2153 1st Ave S, St. Petersburg, FL 33712)
Dr. Burt will be reading from her forthcoming poetry collection, We are Mermaids at Tombolo bookstore. The collection reflects on her experience as a transgender woman and the joys of romance, family, nature, and imaginative community. RSVP here.
Gulfport LGBTQ Resource Center
October 13 │ 7:00 PM │ Gulfport Public Library (5501 28th Avenue South Gulfport, FL 33707)
The LGBTQ Resource Center of the Gulfport (FL) library invites you to join Dr. Stephanie Burt (Harvard) and Professor Kristen Adams (Stetson Law) in a public discussion of why access to books about LGBTQ+ lives is important and the impact of laws restricting freedom of speech through literature.
Attend this free event in person at the Gulfport Library or online. RSVP for online access here.
---
Resources
Stetson Law's Lambda Legal Society- Learn about Lambda
Stetson Law's LGBTQ+ Activities and Support - Learn more
Stetson University's LGBT Student Organization - Kaleidoscope
The National LGBTQ+ Bar Association - Learn more
Tampa Bay LGBT Chamber - Learn more
St. Petersburg/Clearwater Area Convention and Visitors Bureau - LGBT Businesses Resource Guide
Metro Inclusive Health - Learn more