Black History Month
Join Stetson Law as we celebrate Black History Month this February. In 1926, historian Dr. Carter G. Woodson founded a week to honor African Americans whose contributions had been historically overlooked. Today, Black History Month has grown into a national celebration to honor the historical and present contributions of Black communities and the diversity of traditions, experiences, and cultures.
As a community of learners and advocates for justice and equality, Stetson University College of Law is honored to provide students, faculty, and staff with a resource to learn from and celebrate Black contributions on our campus, throughout the legal profession, and beyond. In addition to joining this national celebration, Stetson Law invites you to explore this community resource page, including the events thoughtfully coordinated by Stetson's Black Law Students Association.
While this page is the result of a collaborative effort, it is not a comprehensive resource. We encourage students, faculty, and staff to explore other resources and to feel free to share those that may add to the richness of this page. Please email any insights to [email protected].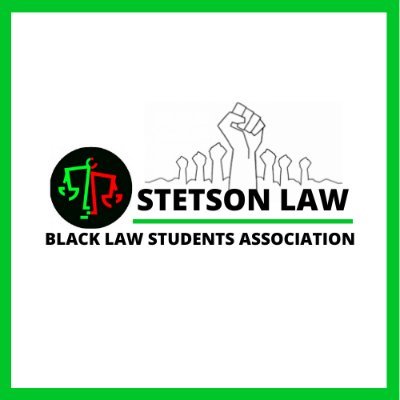 Events | Learn | Engage | Resources
---
Events
Please refer to the Campus Docket and Engage for the most up-to-date event information.
Stetson Law Events:
Stetson University College of Law is excited to share that all community members faculty, staff, and students to participate in the following events during Black History Month.
Campus to Career
February 17 │ 12 PM - 1 PM │ Mann Lounge
Erica Bartimmo is Senior Vice President and Assistant General Counsel for Citi and an adjunct professor of law at Florida State University. Erica is also a board member of the Kozyak Minority Mentoring Foundation. She will share her professional experience and provide insight regarding the advantages of mentoring and networking for diverse law students, ways to locate mentors and sponsors, best practices for navigating uncomfortable or unfamiliar spaces and address the disadvantages of over-commitment. RSVP for the event here.
Dinner at Chief's Creole Cafe
Black Law Students Association
February 11 │ 7 PM │ 901 22nd Street South St. Petersburg, Florida 33712
Join us for a Stetson Law group dinner at Chief's Creole Cafe, a Black-owned, Louisiana-style restaurant located in the Deuces, the historic 22nd Street South District, which was the former hub of Black businesses, homes, and entertainment during the time of segregation.
RSVP is required and the form is forthcoming.
Black Leaders in the Law: A Celebration of Black History
Black Law Students Association
February 16 │ 11:30 AM-1 PM │ Location TBD
Join us as we display Black leaders in the law, students will have an opportunity to learn about the contributions each leader has made to the legal profession and fellowship in recognition of Black History Month.
Survival of the Fittest: Speed Networking
Black Law Students Association
February 25│ 12PM-3PM │ Location TBD
A seat at the table means that you are part of a conversation. Join us for our annual Survival of the Fittest program, where we help students prepare for their legal careers. Through Speed Networking with Stetson Alumni and other attorneys and judges in the Tampa Bay area, students will have the opportunity to make valuable connections to prepare them for their future. Business casual dress and bringing several copies of your resume is strongly encouraged.
RSVP is required
Local Events
The Woodson African American Museum of Florida
February 18│ 10 AM - 5 PM │ The Woodson African American Museum of Florida (9th Ave. & 22nd St. South, St. Petersburg, FL)
Come see what is cooking at the Tampa Bay Collard Green Festival and stay to enjoy live music, shop from local vendors, and a farmers market. Find more details about the festival here.
The Association for the Study of African American Life and History
February 25│ 6 PM │ University of South Florida Student Center (200 3rd Avenue South, St. Petersburg, FL 33701)
Join the St Petersburg Branch of the Association for the Study of African American Life and History (ASALH) to honor their guest filmmaker Valerie Scoon. Ms. Scoon will screen her work Invisible History: Middle Florida's Hidden Roots which explores the history of plantations and enslavement in Florida.RSVP for the event here.
---
Learn
Black History Month: Founders and Origins
The National Museum of African-American History│The Smithsonian
Learn about the valiant effort of Dr. Carter G. Woodsan and other black educators who advocated for the celebration of Black History Month today.
Black History in St. Petersburg
Pinellas County Black and Civil Rights History
The Foundation for a Healthy St. Petersburg │The African-American Heritage Association of St. Petersburg
Visit this webpage curated to highlight the history of Civil Rights and social change in Pinellas County.
This video introduces the community to St. Petersburg St. Pete's African-American Heritage Trail which chronicles the first 100 years of African-American culture, community, and contribution to the city. You can follow the virtual trail here. (African-American Heritage Association of St. Petersburg, 2021) (Duration 2:48)
Black History Across the Diaspora
Diaspora Defined
The National Library of Medicine
The African Diaspora art and culture can be seen in many parts of the world
Afro-Caribbean: Roots in Reggae
The Smithsonian
In Jamaica, Black History Month coincides with Reggae Month. Jamaicans have contributed their own unique sound to the world of music. In this article, learn about the roots and legacy of reggae music.
Terminology
Why Do We Use the Term African-American
Have you ever wondered about the etymology of the terms "Black" or "African-American"? This video takes a dive into the history of terms used to describe the Black identity (Public Broadcasting Station, 2020) (Duration 9:25).
African-American Pioneers and Advocates
Black Trailblazers in the Legal Profession
The American Bar Association
Black lawyers and legal professionals who were pioneers and fierce advocates in their communities
African-American Veterans' Stories
Library of Congress
Dive into this archive of African-American Veterans' stories
Stetson Law Black Alumni Spotlight
Theresa Nadege Jean-Pierre Coy
Stetson University
Stetson Law alumnus and adjunct professor, Theresa Nadege Jean-Pierre Coy, is honored for her legal career and life of advocacy
Stetson Alumni Make Up Half of the Board Of the Florida Bar Chapter For Black Lawyers
Stetson University
Stetson Law alumni Michael T. Davis, Kamilah Perry, Hershley Oge, and Valeria Obi are Virgil Hawkins Florida Chapter of the National Bar Association leaders who are committed to providing professional development and community service opportunities for Black law students and lawyers.
Diversify your Bookshelf
Ten Black Authors to Read
Public Broadcasting Station
This list features authors who have a voice in their generation
---
Engage
Visit the historic Dueces and patronize the many black-owned businesses there today (The City of St. Petersburg, 2021) (Duration 2:00)
Madam C.J. Walker: Meet the First Self-Made Female Millionaire
The first female self-made millionaire was Madam C.J. Walker who was a philanthropist in her community (The Smithsonian, 2016) (Duration 4:37)
Conversations in Context: Memory

A discussion on how we remember the past, from slavery narratives to confederate monuments, and what we're meant to learn from it (The Smithsonian, 2020) (Duration 12:27)
---
Resources
Stetson Law's Black Law Students Association - Learn about BLSA
Stetson University's Black Student Union
Black Law Students Association Alumni Board 2022-2023 - Learn more
The Dr. Carter G. Woodson African American Museum in St. Petersburg - Visit Us
The African American Heritage Association of St. Petersburg - About us
Hillsborough County's George Edgecomb Bar Association - About Us
Pinellas County's Fred G. Minnis, Sr. Bar Association - About us
Virgil Hawkins Bar Association Florida Chapter - Learn more
Virgil Hawkins Bar Association Fellowship Program - Learn more
Virgil Hawkins Bar Association Scholarship - Learn more