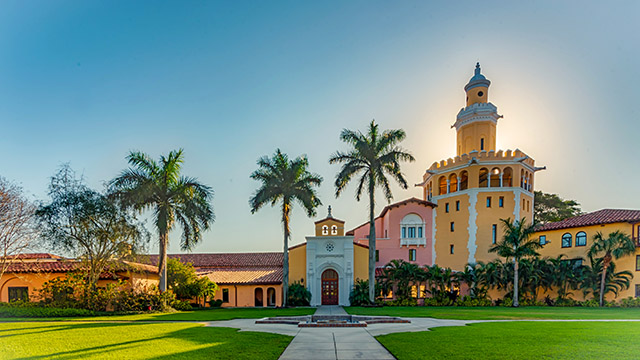 Class of 2008 10-Year Reunion - Oct. 26-27, 2018
The Class of 2008 Reunion Committee enthusiastically invites you to come back to campus to reconnect, reminisce, and make some new memories with our classmates. Please plan to join us for an amazing celebration of the past 10 years!
Schedule of Events
Friday, Oct. 26, 2018
6-10 p.m. – Reunion Kickoff Party
3 Daughters Brewing
222 22nd Street South
St. Petersburg, Florida
Saturday, Oct. 27, 2018
5-6 p.m. – Cocktail Hour – Mann Lounge and Banyan Courtyard
6-6:30 p.m. – Welcome delivered by Dean Adams
6:30-7 p.m. – Campus tour ending with a Champagne toast in the Tower
7-10 p.m. – Dinner buffet, live band, and dancing – Banyan Courtyard
10 p.m. – After-Party
O'Maddy's Bar & Grille
5405 Shore Boulevard South
Gulfport, Florida
Reunion Committee
Joel Berman, Joann Grages Burnett, Nathan Hatcher, Jim Jenkins, Kathryn Lewis Perrin, Amy Rigdon, Anthony Robinson, Kelly Van Wey Robinson, James Ross, Samantha Satish and Matthew Schwencke
Registration
Cost: $30 per person
Guests are welcome! An invitation to attend has also been extended to the members of the Classes of 2007 and 2009.
Registrants
Gabriel Acosta, Katrina Acosta, Dean Kristen Adams, Adam Brouillet, Jen Brouillet, Emily Bumgardner, Thomas Bumgardner, Andy Burnett, Joann Grages Burnett, Cari Clark, Callie Cowan, Jeremy Clark, David Delrahim, Heather Delrahim, Adriana Dinis, Sean Dunham, Joy Easterwood, Matt Easterwood, Brian Esposito, Mary Esposito, Russ Faine, Adam Fernandez, Meaghan Fernandez, Dan Finlayson, Associate Dean James Fox, Heather Gilbert, Jonathan Gilbert, Sarah Glaser, Zach Glaser, Ange Goueti, Elizabeth Goueti, Katie Hatcher, Nathaniel Hatcher, Laura Holler, Eric Hubbs, Erica Hubbs, Christopher Johnsen, Michael Kalil, Katie Koener, Vince Koener, Caitlin Kramer, Gretchen Lehman, Vincent LoBue, Melissa Madsen, Ryan McGee, John Miller, Joe Murray, Christian Pietka, Ashley Nunneker, Kathryn Perrin, Kayla Richmond, Luis Ramos, Amy Rigdon, Gabe Robertson, Anthony Robinson, Kelly Robinson, Nick Robinson, Michelle Robinson, Clara Rodriguez Rokusek, Ryan Rokusek, James Ross, Ashley Najar Roura, Miguel Roura, Professor Susan Rozelle, Samantha Satish, Matthew Schwencke, Katherine Scott, Dan Smith, Lindsay Warner and Trey Yearwood
Official Reunion Hotel
The Sirata Beach Resort is offering reunion attendees a discounted room rate of $139 on Friday and $179 on Saturday. Rooms are based upon availability. When calling to make your reservation, please reference the "Stetson University College of Law 2018 Reunion Weekend" in order to receive the discounted rate. Contact reservations at 1-800-344-5999. For additional options, visit the Tampa Bay Hotels page.
Cancellation Policy: Stetson University College of Law will issue a full refund if your cancellation is received on or before Oct. 19, 2018. No refunds will be issued after Oct. 19, 2018. Publication Policy: Stetson University College of Law reserves the right to use, publish, display, distribute, sell and/or reproduce in any manner video/recorded voice/photographs, including the right to edit or use a portion of such video/recorded voice/photographs for educational purposes only and/or Stetson University College of Law marketing.