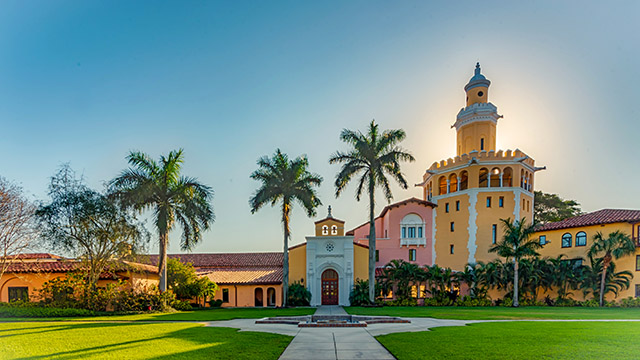 Stetson Law Class of 1969 50-Year Reunion - Oct. 25 & 26, 2019
CANCELED
You are invited to celebrate with all the familiar faces that you have missed over the past fifty years. Come and join us as we renew friendships, reminisce about days gone by, and share in life experiences both past and present.
Schedule of Events
Friday, Oct. 25, 2019
6 p.m. - 7 p.m. - Cocktail Hour - Great Hall
7 p.m. - 9 p.m. - Dinner and Presentations - Great Hall
Saturday, Oct. 26, 2019
9 a.m. - 10:30 a.m. - Breakfast Buffet - Mann Lounge
10:30 a.m. - 11:15 a.m. - Campus Tour
11:15 a.m. - 12 p.m. - Dolly and Homer Hand Law Library Archives Tour
The tour includes documents from the Nuremberg Tribunals donated by Harold L. Sebring, Stetson Law's long-serving Dean, and judge at the tribunals.
Registration
Cost: $130 per person
Guests are welcome!
Official Reunion Hotel
The Sirata Beach Resort will be offering reunion attendees discounted room rates starting at $199 per night. If you would like to take advantage of this offer, please call 1-800-344-5999 and reference the Stetson University College of Law 2019 Reunion Weekend group block.
For additional lodging options, visit the Tampa Bay Hotels page.
Cancellation Policy: Stetson University College of Law will issue a full refund if your cancellation is received on or before Oct. 11, 2019. A cancellation fee in the amount of $50 per person will be charged for cancelations received after Oct. 11, 2019. No refunds will be issued after Oct. 24, 2019.

Publication Policy: Stetson University College of Law reserves the right to use, publish, display, distribute, sell and/or reproduce in any manner video/recorded voice/photographs, including the right to edit or use a portion of such video/recorded voice/photographs for educational purposes only and/or Stetson University College of Law marketing.