Master of Jurisprudence in International and Comparative Business Law - Campus Life
Founded in 1900 as Florida's first law school, Stetson University College of Law is a leader in international legal education. Stetson is fully accredited by the American Bar Association and is a member of the American Association of Law Schools. Stetson offers a welcoming environment for lawyers around the world, with renowned professors who share the knowledge and skills needed to succeed in the global marketplace.

Stetson Law has been ranked as the top law school for Trial Advocacy training for the past 21 years and also as one of the top four institutions for Legal Writing by U.S. News and World Report.
In 2016, Stetson's LL.M. in International Law program was also recognized by International Jurist magazine as one of the best LL.M. programs for Career Opportunities and for Where Students Feel Most at Home. Due to the small class sizes and our close knit community, we can offer services and give extra attention to our students personal and professional needs.
Study and Live in Beautiful Gulfport, Florida
The program will be offering the majority of courses from the Gulfport campus. The 21-acre, palm tree-lined campus is minutes from downtown St. Petersburg, and only three miles (5 kilometers) from St. Pete Beach—Trip Advisor's #3-ranked best beach.
» Download our exclusive Visitor's Guide
About Tampa Bay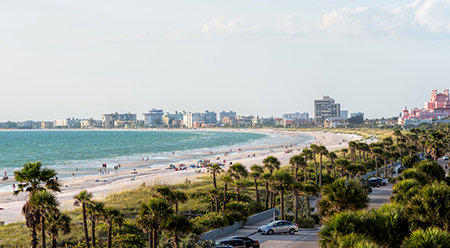 Stetson Law is located 3 miles (5 kilometers) from the beach and minutes away from recreational parks and trails. Downtown Saint Petersburg and Tampa are just a short drive away along with numerous attractions such as Busch Gardens, Disney World, Sea World and Universal Studios.
Virtual Tour of Campus and Surrounding Areas
Stetson Law's campus and the surrounding areas in Tampa Bay are stunningly beautiful. For those unable to visit in person, we have developed a 360-degree virtual tour that's almost like being there.
Click a link below to launch the tour. Click and drag your mouse to pan images and view the full panorama. Use the thumbnail images to navigate through the tour, which also includes numerous multimedia hotspots for additional information. Would you like to visit in person? See Visit Stetson Law to make a reservation for an in-person tour.
---