National Clearinghouse for Science, Technology and the Law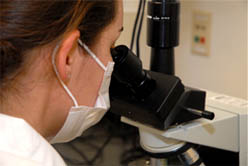 The mission of the National Clearinghouse for Science, Technology and the Law (NCSTL) at Stetson University College of Law is to foster communication between the scientific, technological and legal communities. To accomplish this, NCSTL provides comprehensive scientific, technological and legal information, which will promote justice based on sound science and technology.
Judges, lawyers, scientists and law enforcement are overwhelmed by the amount of science and technology information required to educate themselves to meet many legal challenges. Navigating the vast terrain of information contained within the existing case law, scientific journals, reports, publications and other resources has been, in the past, an impossible task. NCSTL assembles available scientific, technological, and relevant legal resources into a comprehensive "one-stop" searchable database with equal access for all.
NCSTL provides: a searchable database of legal, forensic, and technology resources; a reference collection of law, science, and technology material; national conferences on science, technology, and the law; and training modules and primers with an emphasis on distance education.
NCSTL continues to develop other resources for the legal and scientific communities to provide timely, accurate and useful information to promote justice. Current projects being developed include: distance education programs; extended partnerships with law schools, professional associations, law enforcement agencies, and federal and state agencies.
For more information, please contact NCSTL at 727-562-7800 ext. 7316 or visit www.ncstl.org.