Director's Message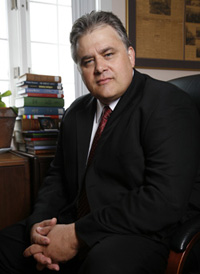 Welcome to the Center for Excellence in Advocacy. Every day at Stetson, we reaffirm our commitment to strive for excellence in all facets of the art of persuasion - pretrial, trial and appellate. Our mission is to promote the continuing development of unparalleled advocacy skills through a three tiered approach of teaching, scholarship and research. The synergy of this combination creates opportunities that continually place Stetson University College of Law in the forefront of Advocacy, both nationally and internationally.
Our Center provides learning opportunities across a broad continuum, and if you are serious about finding your own unique voice as an advocate for others, then let me bid you welcome to a place where you will immediately feel at home. Professors, attorneys and students all find opportunities for developing their advocacy skills here, and I am sure that you will too. Our program offerings are designed to develop advocacy skills for the practitioner, the student and the academic. Regardless of the reason for your interest in advocacy, we are here to share our knowledge and to learn from you.
At Stetson, we believe that raising the ability of one advocate benefits the profession, the client and the world. We also understand that the art of persuasion is not unique to one particular institution, and each of us can and does learn new paths to excellence every day. Our accomplishments are based on this simple commitment to excellence and we renew each day our promise to continue the legacy of those who have gone before us. We strive always to be better than we were the day before, and to share with others what we have been fortunate enough to learn.
All of us at Stetson are committed to the concept of the complete advocate - one who commands a superior understanding of the law, the ability to persuasively present evidence, and the humanity to know when and how to do the right thing. This commitment is not limited to our competition teams and faculty. It is also found in our vibrant student organizations, clinical programs and Stetson competitions. Our students staff, run, and support a variety of advocacy opportunities for every Stetson student - a unique feature to Stetson and yet one more example of our student body's commitment to excellence. We provide our students with a wide variety of skills classes to choose from, and our recent work with distance learning and our Advocacy Resource Center provides all advocates that train at Stetson with 21st century access to Stetson's resources.
At Stetson, we empower students to advocate as ethical, competent and compassionate members of the legal profession. In the search for excellence, it is our hope that each will find within themselves the joy of our profession, the ability to understand the right thing to do, and the courage to do it. We welcome you to the Stetson community. Look around and stay awhile. If you have any questions about Stetson, the Center for Excellence in Advocacy or our programs, please drop me an e-mail. I look forward to hearing from you as you continue on your journey to become a more competent, caring and professional advocate.
Charles H. Rose III
crose@law.stetson.edu
Professor of Excellence in Trial Advocacy
Director, Center for Excellence in Advocacy
Stetson University College of Law