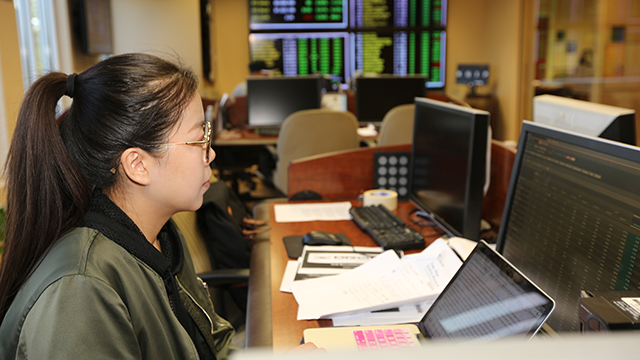 Admission - MBA Program
Stetson University's Graduate Admissions office accepts applications for all graduate business programs on a rolling basis. In order to prepare you for admission to your program of choice, the priority application dates listed below secure first priority for class registration. The final application date ensures that your application will be reviewed in a timely fashion and given ample time for class registration, managing tuition and funding options.
We look forward to receiving your application!
Application Deadlines
Application Materials
Required Application Materials
$50 application fee
Official transcripts from all colleges/universities previously attended
GMAT Scores or GRE Scores are required to be considered for scholarship opportunities
Resume
Two letters of recommendation (professional or academic)
Personal Statement - addressing your career goals, your reasons for pursuing this graduate degree, and why you want to attend the Stetson University School of Business Administration.
Your application materials should be sent to Stetson University via any one of the following methods:
Stetson University Office of Graduate Admissions
421 N. Woodland Blvd.
Unit 8289
DeLand, Florida 32723
Fax: 386-822-7112
Email: gradadmissions@stetson.edu
International Students
The following additional requirements apply to international applicants:
Submit your transcripts
Official transcripts from your undergraduate degree are required. Transfer students are required to submit transcripts from all colleges and/or universities attended as well as a listing of courses in progress that includes course names, course numbers and numbers of credit hours.
If the grading and evaluation system used by your education system differ from those used by the United States education system, you must provide official translation and a course-by-course evaluation of undergraduate/graduate degree studies. Please use one of the following evaluation services for your course-by-course evaluation:
World Educational Services
22 Prince St.
PMB 101
New York, NY 10012
Josef Silny & Associates
7101 SW 102 Ave.
Miami, FL 33173
Ucredo
P.O. Box 3044
Windermere, FL 34786
Take an English proficiency test
All applicants for admission whose native language is not English are required to take the Test of English as a Foreign Language (TOEFL) and submit a scored of 90 or better, or the International English Language Testing System (IELTS) and submit a score of 7.0 or better. Please contact the Office of Graduate Studies for additional information; the office's contact information is to the right.
Submit immigration forms
Upon admission, the Department of International Learning will assist students in obtaining a student visa. To issue the U.S. Immigration Form I-20 "Certificate of Eligibility," the department must have on file acceptable documentation and evidence showing that the admitted student has funds to pay for the first year of study at Stetson University. The student should keep a copy of this financial documentation as he/she will need to present it at the U.S. Embassy or Consulate as part of the visa application procedure. Please contact the department at 386-822-8165 or isss@stetson.edu with questions regarding this step.
Please send all necessary documentation to the Department of International Learning at:
Department of International Learning
Stetson University
421 North Woodland Boulevard
Unit 8412
DeLand, Florida 32723
Student Housing
If you will need assistance in finding housing or would like to explore student housing options, please contact the Stetson University Office of Residential Living and Learning at reslife@stetson.edu or 386-822-7201.