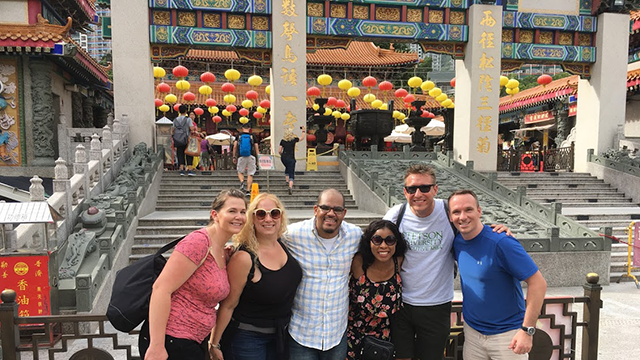 International Experience
As part of the curriculum, the Executive MBA program offers an international course. Given the global nature of today's business environment, professionals need exposure to the differences in international business practices and environments in real time as opposed to in a classroom setting.
The experience is scheduled during the summer term after the cohort has completed their fundamental coursework so that they may appreciate the differences in applications across the diverse business disciplines. Course locations are selected based on the size and diversity of the industry within the city to be visited and the overall economic climate of the country.
The cohort meets with executives from a variety of companies, which are chosen to allow the cohort to experience different industries as well as companies that are both local and multinational. These visits encourage a true exchange of ideas and a greater understanding of doing business internationally.
2018 International Trip
Cohort 15 explored Bangkok, the largest urban city in Thailand. The city has grown rapidly and exerts a significant impact on Thailand's politics, economy and education. The Asian investment boom led many multinational corporations to base their regional headquarters in Bangkok, making it the ideal location for our EMBA students. Insights from previous visits to Bangkok enabled students to delve deeper into complex business decisions and discussions during various C-level executive visits. Their experience also included consulting work for a growing non-profit organization eager for fresh perspectives and collaboration.
2017 International Trip
Cohort 14 explored Hong Kong, an international business hub to entrepreneurs, multinational companies and organizations with worldwide appeal. Hong Kong's vibrant and densely populated urban city is a major port to keep pace with global trading. It was a learning mecca for our EMBA students who paired their experience with several days in Bangkok. The two cities were a striking comparison for our students to observe the differences in culture, lifestyle, business practices and the overall pace of life that each proudly possesses.
2016 International Trip
Cohort 13 went to Thailand from June 17 to June 26, 2016. Besides their International Consulting Project, these students participated in many cultural activities and business visits in Bangkok. The students were particularly enthused about the local culture and diversity.
2015 International Trip
In June/July 2015, Cohort 12 went on a trip to Thailand. These students experienced everything from fish spas to learning about the history of the constitutional monarch. Even though the students were there for further professional development, they had plenty of time for exciting activities.
2014 International Trip
In June 2014, Cohort 11 traveled to Taipei, Taiwan and Bangkok, Thailand. Being immersed in global business practices and consulting activities with leading corporations aligned perfectly with the leadership development and business acumen skills the students are acquiring in their advanced coursework.
2013 International Trip
In June/July 2013, Cohort 10 traveled to Singapore and Ho Chi Minh City, Vietnam. These diverse cities provided our students with an engaging professional and cultural experience, along with a rapidly expanding 21st Century city. The students met and consulted with top executives from local and multinational firms.
To see all the exciting people and places we met during the trip, check out our blog!
2012 International Trip
In June/July 2012, Cohort 9 traveled to Istanbul, Turkey and Budapest, Hungary. Students had time to visit many unique places such as the Budapest Safari Park where they spent time with disadvantaged children from the surrounding area. These students also had the opportunity to observe native animals during this day trip.
2011 International Trip
In June/July 2011, Cohort 8 traveled to South Africa. These students put their business acumen to the test while working with companies like Vodacom. However, this experience was not all work. Students had the chance to learn about South African culture and history. One of the most memorable excursions was the Apartheid Museum. This is where students learned about the division and unification of the country.
To see all the exciting people and places we met during the trip, check out our blog!
2010 International Trip
In June 2010, Cohort 7 embarked on a journey to Hong Kong and Vietnam. These Stetson EMBA students experienced a change in perspective after going from luxury conference rooms with industry leaders to bartering with street vendors throughout the cities.
2009 International Trip
Cohort 6 departed for a long journey to Dubai from July 4-12 for the opportunity of a lifetime. This group of EMBA students applied in class knowledge to existing financial institutions and industries while also gaining insight into different cultures and religions during their time in Dubai.