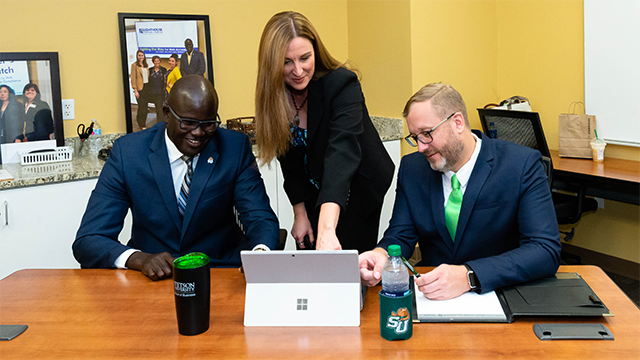 EMBA Information Sessions
We know you are busy, and we want you to concentrate on your priorities while we take care of the details. We make every effort to meet you at a time and place that is most convenient for you. Individual information sessions regarding our EMBA program can even be conducted at your place of employment or a local coffee house.
Make an appointment for an individual session by calling 321-939-7603 or emailing wlowe@stetson.edu.
Scheduled Information Sessions
We hold group information sessions to assist in learning about the EMBA program. Events vary in format and duration to allow you to learn about our program in the manner that is most convenient for you.
You may register online by clicking the event name, by emailing emba@stetson.edu or by calling 321-939-7603.
Wednesday, March 13, 2019 | 5:30 - 6:15 p.m.
Join EMBA Admissions Director, Wendy Lowe, in this interactive online information session. Learn more about Stetson University's Executive MBA, the steps to admission and get all of your questions answered while joining us online.
Friday, March 29, 2019 | 12:30 - 2 p.m.
Prospective EMBA candidates will learn more about the Executive Master of Business Administration program offered in Celebration. Students will have the opportunity to sit in on an EMBA class, as well as network with current students over lunch.