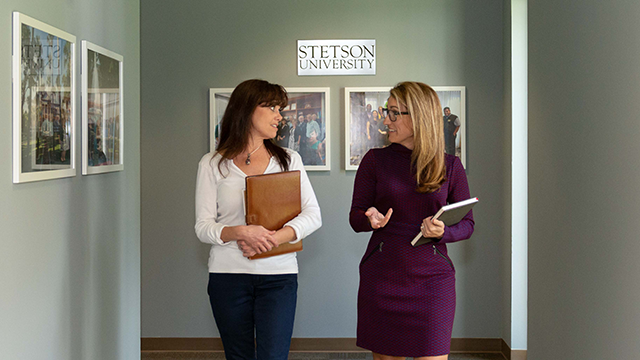 The Executive MBA Experience
The Executive M.B.A. program at Stetson University provides the perfect environment for students to grow through an investment in themselves. The engaging academics, supportive cohort, interactive coaching, and transformational international trip provide students with the business acumen and interpersonal skills to to prepare for senior leadership success.
Academic
Executive M.B.A. students at Stetson are part of an interactive and engaging program designed to enhance the knowledge and skills of working professionals. The EMBA program focuses on cutting-edge leadership development that leads to immediate application. Students don't need to wait until the end of the program to see results - skills learned in class on Saturday can be implemented at work on Monday, meaning that the student, their work and their education are improved at the same time.
The EMBA program is designed specifically for the executive, entrepreneur or fast-track manager who, having advanced to a certain stage in his/her career, recognizes the importance of continuous learning for senior managerial success. Over the course of our 18-month program, students meet at the Stetson facilities in Celebration, Fla., every other weekend on Fridays and Saturdays, from 8:30 a.m. to 5:30 p.m., in order to accommodate their busy work schedules.
Cohort
Each class in the EMBA program is considered a cohort, with students beginning and ending the program together. Each cohort consists of no more than 25 students, allowing for intimate class discussions and networking. The typical class structure utilizes this cohort concept in which the collective knowledge and experience of the group are utilized to enhance the professional network of all students. It emphasizes study team concepts and pragmatic case and project based learning. The cohort learning system is teamwork and community oriented with plenty of peer and faculty support.
Coaching
The EMBA program allows students to engage in true developmental coaching with a trained executive coach that meets with students at multiple points throughout the program. All students participate in a 360-degree process. This coaching style incorporates all around feedback from the executive, peer and faculty perspectives.
International Trip
During the program, each EMBA cohort takes a trip together to an international location to observe foreign industry, including both local and multinational businesses. The trip takes place after fundamental coursework has been completed so that differences in application across the diverse business disciplines can be appreciated. As opposed to a classroom, business practices and environments are experienced first-hand.
Graduates often cite in their exit interviews that the international trip was one of the most rewarding and transformational experiences of their time in the EMBA program - an experience that facilitated bonding between the cohort members. Destinations are chosen based on the size and diversity of the industry of the city as well as the overall economic climate of the country. Prior locations include Turkey, Hungary, Hong Kong, Vietnam, Dubai and South Africa.