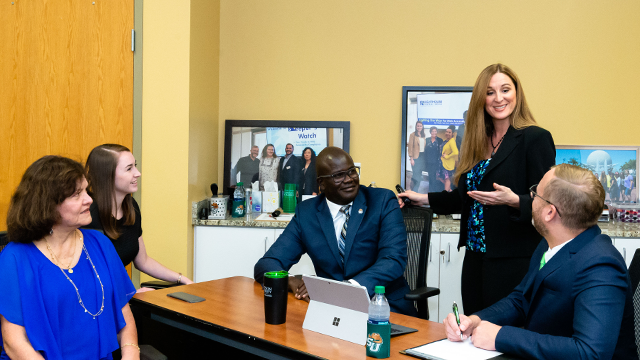 Executive MBA Admission
Applications submitted on or before March 31 are given priority consideration of acceptance to the program. All other applications, received no later than July 15, will be considered for admission based upon seats available.
We look forward to receiving your completed application!
Important Dates
Fall 2019
Priority Application Date
Sunday, March 31, 2019
Final International Application Date
Saturday, June 1, 2019
Final Application Date
Monday, July 15, 2019
Cohort Orientation
Friday, August 2, 2019
Classes Begin
Friday, August 16, 2019
Application Materials
Application for Admission: Fall 2019
$50 application fee
Undergraduate and graduate transcripts - Official, sealed transcripts from all colleges and universities attended. Students whose most recent attending institution is Stetson University can expect transcripts will be requested on their behalf.
Resume - Provide a current resume listing your professional and educational history, including any honors, certifications, designations, etc.
Written Statement - Stetson's EMBA program admits a select cohort of talented professionals who have demonstrated the potential to become successful business leaders in an increasingly competitive and global environment. Briefly summarize the characteristics, unique skills, training and experiences you will bring to the cohort learning dynamic. In addition, describe your personal leadership goals and how Stetson's EMBA leadership development curriculum will help you achieve those goals. (maximum 750 words).
References - Two letters of recommendation from professional and/or academic references in support of your EMBA application.
GMAT Scores - The GMAT is not a requirement for completion of an EMBA application; however, the Program Director reserves the right to request a GMAT score in order to make a final decision.
Interview – By invitation from the Executive MBA program to support an application to the program.
The application and application fee are processed through the application link above. Your resume and recommendations can be emailed to gradadmissions@stetson.edu. Please make arrangements to have official transcripts sent to the following address:
Stetson University
Executive MBA Program Admissions
421 N. Woodland Blvd.
Unit 8290
DeLand, FL 32723
International Students
International applicants to the Executive MBA program are encouraged to complete the application requirements no later than June 1st. The following additional requirements apply to international applicants:
Submit your transcripts
Official transcripts from your undergraduate degree are required. Transfer students are required to submit transcripts from all colleges and/or universities attended as well as a listing of courses in progress that includes course names, course numbers and numbers of credit hours.
If the grading and evaluation system used by your education system differ from those used by the United States education system, you must provide official translation and a course-by-course evaluation of at least three years of high school and grade-point average computation. Please use one of the following evaluation services for your course-by-course evaluation:
World Educational Services
22 Prince St.
PMB 101
New York, NY 10012
Josef Silny & Associates
7101 SW 102 Ave.
Miami, FL 33173
Take an English proficiency test
All applicants for admission whose native language is not English are required to take either the Test of English as a Foreign Language (TOEFL) and submit a score of 90 or better on the Internet-based test or the International English Language Testing System (IELTS) and submit a score of 7.0. Please contact the Office of Graduate Studies for additional information; the office's contact information is to the right.
Submit immigration forms
Upon admission, WORLD: The David and Leighan Rinker Center for International Learning will assist students in obtaining a student visa. To issue the U.S. Immigration Form I-20 "Certificate of Eligibility," the department must have on file acceptable documentation and evidence showing that the admitted student has funds to pay for the first year of study at Stetson University. The student should keep a copy of this financial documentation as he/she will need to present it at the U.S. Embassy or Consulate as part of the visa application procedure. Please contact the department at 386-822-8165 or isss@stetson.edu with questions regarding this step.
Please send all necessary documentation to WORLD: The David and Leighan Rinker Center for International Learning to the following address:
Department of International Learning
Stetson University
421 North Woodland Boulevard
Unit 8412
DeLand, Florida 32723
Next Steps
Once all required documents of an application are received, the following steps will take place:
Interview - A date/time will be set for the applicant and the Program Director to meet and discuss the applicant's file, work history, educational goals and how the Stetson University Executive MBA program aligns with those goals.
Review - The applicant's completed file and notes from the interview will be sent to the graduate admissions committee to review the candidate's credentials. Completed applications are reviewed on a rolling basis.
Notification - All applicants are notified of the review committee's application decision by postal mail.
Acceptance and Deposit - All accepted applicants will receive an acceptance and deposit letter within two weeks of the review committee's decision.
Confirmation – Admitted students are asked to return their signed acceptance letter and seat deposit within 30 days of admission notification. The deposit is applied to the student account balance as a credit and official enrollment into EMBA courses is activated.