Safe Zone Events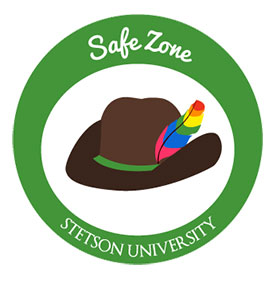 Thursday, August 28
6 to 7:30 p.m. - duPont-Ball Library room 25L
Latin America Film Series: Sanky Panky
Sponsored by the Department of Modern Languages and Literatures and the Department of Latin American and Latino Studies
Sanky Panky is a hilarious Caribbean comedy that follows Genaro, a broke and desperate sanky-panky (male sex worker, found in the Dominican Republic). Genaro wants to imitate a good friend's fortune and the film follows his ordeals while on a mission to seduce American and European tourists into getting him a visa. A discussion on the Dominican diaspora and social justice will follow the film.
Student ID required for cultural credit.
Tuesday, September 30, 2014
All Day
VOICES (Vision-Oriented Intervention for Campus Equity and Safety): Bystander Intervention Day of Dialogue
Tracy Nicholls, Ph.D., has a philosophy centered around educating students about establishing healthy, respectful, consensual relationships in order to teach and motivate others. These efforts stamp out all predatory social behaviors, including rape, sexual exploitation and bullying, and help to ensure the safety and human dignity of all people. The Day of Dialogue includes class visits, workshops and a keynote presentation.
1 to 2:30 p.m. - Hollis Center classroom
Step Up! Be the Solution Workshop
Come out and have a ball as we play a role-playing game on bystander intervention, which will present you with hypothetical scenarios involving alcohol and proposed sexual activity, and will encourage you to think about constructive ways that bystanders can intervene to reduce the possibility of non-consensual sex.
Student ID required for cultural credit.
6 to 7:30 p.m. - Carlton Union Building, Stetson Room
Metaphor Matters: The Violence of Language
A moderated discussion on the insidious role of language in forming our attitudes about sex and gender, love versus lust, "bros before hoes," blonde roots, and the "you are a chewing gum" model of abstinence education.
Student ID required for cultural credit.
Monday, October 13
7 to 8:30 p.m. - Allen Hall
Out: Latino LGBT Panel
Sponsored by the Cross-Cultural Center, Safe Zone and Kaleidoscope
A "fishbowl" look into the ways lesbian, gay, bisexual, transgender, intersex, queer and questioning individuals address the complexities of race, gender, gender expression and social pressures as they shift identities to "survive," "pass" and "succeed." The event will feature candid conversations followed by a Q&A session. Refreshments will be provided.
Student ID required for cultural credit.
Thursday, October 16
10 a.m. to 9 p.m.
Day of Silence Demonstration
Sponsored by Kaleidoscope Gender and Sexual Diversity Student Organization
The National Day of Silence is a day of action in which students across the country vow to take a form of silence to call attention to the silencing effect of anti-LGBT bullying and harassment in schools. Check out Kaleidoscope's Facebook page for more information.
Wednesday, October 22
7 to 8:30 p.m. - Carlton Union Building, Stetson Room
One in 2,000: Demystifying the Issue of Sexual Difference
At a time when five babies per day in the United States are having "gender reassignment" surgery, there exists an argument that there is little evidence such surgery is beneficial to the child. In this program, Sean Saifa Wall, intersex activist, profiles several people born with ambiguous sexual anatomy, who have managed to deal with some very difficult family and social issues, and today are living "ordinary" and productive lives. Join us for this dynamic discussion.
Student ID required for cultural credit.
Thursday, November 20
7:30 to 8:30 p.m. - Location TBD
Ze Story: Two-Spirit Identity
Sponsored by Kaleidoscope and Hillel
"Two-spirit people" is a modern umbrella term used by some indigenous North Americans for gender-variant individuals in their communities. The guest speaker will share transformative stories of identity, culture and social justice. A Naming Ceremony to commemorate the Transgender Day of Remembrance will follow.
Student ID required for cultural credit.
8:30 to 9 p.m. - Location TBD
Transgender Day of Remembrance (TDoR)
Sponsored by Kaleidoscope, Hillel, the Religious and Spiritual Life and the Cross-Cultural Center
The Transgender Day of Remembrance (T.D.o.R.), is a day that memorializes those who have been killed as a result of transphobia (the hatred or fear of transgender and gender non-conforming people), and acts to bring attention to the continued violence endured by the transgender community.