Student Life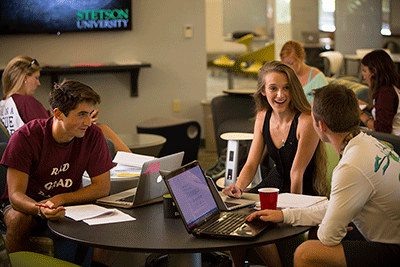 Considering that students spend more than 60 percent of their college years outside the classroom, a vibrant campus atmosphere keeps students engaged in endeavors that matter the most to them. According to the National Survey of Student Engagement (NSSE), students who are involved on campus in at least one activity have a higher GPA, higher overall satisfaction with their experience and are more likely to graduate.
Additional funding would enable Stetson to continue to enhance its co-curricular offerings, leading to increased activity on weekends and throughout the week.
---
"I know I am the person I am today because the university-supported initiatives like campus vibrancy and student government. These components challenged me to grow and become a student leader. When I enter the job market, the degree I have will be essential but also what I did, what my passions are and where I was able to make an impact on our university will be just as important.
"Education is the essential focus of the college experience, but at Stetson you can get more than that and grow to be more than just a person with a degree. You can grow into an individual with a diverse number of experiences prepared to live a significant life."
John Kahle '14 | SGA Vice President, 2011-12
Political Science major, Communications minor | Jersey City, N.J.
---
The CUB: A Renovated Campus Center
While the Carlton Union Building (CUB) has served our students well since 1957, it has been without major renovation to ensure its infrastructure keeps pace. Investments in renovating the CUB as a modern Campus Center will allow for programming and gathering spaces that encourage a vibrant, fun community. It will incorporate technology and media as well as multi-functional performance space.
» Learn more about the CUB Renovation
Living on Campus
As a residential campus, Stetson prides itself on providing opportunities for students to engage in exciting and inclusive opportunities. Funding helps us provide an outstanding level of choice and service to our students through offering a variety of options including themed honors houses, living and learning communities, and pet-friendly housing.
Our on-campus fraternity and sorority community also continues to thrive with growing recruitment numbers, vibrant chapter houses, and annual traditions remaining strong as new legacies form each year. The bonds that our students create at Stetson form an incredible network of friends, colleagues and partners that last a lifetime.
Global Leadership
Stetson students are leaders-in-the-making, poised to make a difference in the world. They engage in leadership summits, find their voices leading student organizations, serve as mentors and explore avenues through which to effect positive social change.
Experience in leadership roles in college prepares young women and men for life situations, enhances their management and interpersonal skills early on, exposes them to networking opportunities and fosters personal growth.
With additional funding for global leadership development, Stetson will expand its commitment to students, transforming them into inspired global leaders through integrated experiential learning opportunities grounded in the university's mission and values.
Other Campaign Priorities