Learning Technologies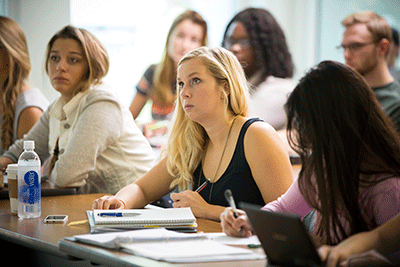 A variety of learning styles exist in a diverse community of learners. Some methods work best for certain individuals, and Stetson recognizes that there is no single path to success that works for everyone. By developing more flexible-learning environments, more of our students who are thirsting to learn may better access, absorb and apply their learning.
Although many of these enhancements, including lecture capture on video, meet the needs of students with differing abilities, they also enhance and increase the learning potential of all of our students by offering them learning through multiple formats. Ultimately this approach creates a more engaged and inclusive environment for interactive learning, higher retention and graduation rates, and successful alumni.
---
---
Donor funding enables Stetson to offer faculty the technological tools and training – from iPads to streaming video – that spark innovation in classroom content and delivery, and in experiential learning and research. In our duPont-Ball Library, for example, collaboration hardware and software offer intriguing possibilities for group projects while other technologies offer new methods to provide library instruction online. Technology also can bridge international distances to bring alumni expertise and industry leaders into our classrooms.
Other Campaign Priorities