International Learning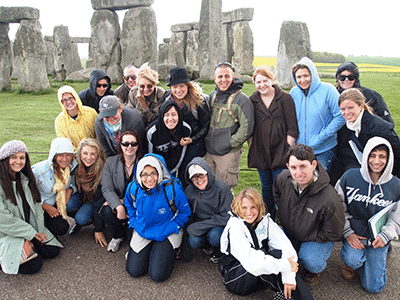 Research shows that immersing oneself in another culture and language stretches one's view of the world and provides experience in managing and navigating unique situations. Through study abroad, students achieve greater self-confidence and personal growth while gaining concrete skills and the important traits inherent in a solid liberal arts education. Such traits are increasingly essential in our modern world, especially as companies seek to hire individuals adept at interacting in intercultural situations.
Our goal in the campaign is to make it possible for every Stetson student to study abroad regardless of academic major and financial means. Financial support from donors—in the form of an endowed student scholarship fund—is critical to increasing the number of students who can and will access international study opportunities.
---
"Were it not for my education in Qatar and America, and my knowledge and traditions of South Asia, I would not be where I am today.
"Many of us do not realize the impact that our environments have on our growth as human beings, be it personal, social or professional. We live in such a connected yet vast globe of differences that are so unique to every location, despite globalization. Traveling outside of our comfort zone and challenging ourselves to conquer and overcome the unknown or unfamiliar does so much to help us mature and truly understand the universe and its mysteries.
"It is only through international education and exposure that we can learn and recognize the similarities that unite us as a race instead of focusing on the differences that separate us."
Poorna Selvaraja '14 | Kuala Lumpur, Malaysia | Psychology major | WORLD Peer Advisor
---
---
In addition, at Stetson, we bring the world to all of our students by infusing the campus with an increased awareness of other cultures and international issues. Funds would expand on and sustain our successful fall and spring international weeks. Additional campus programming would include domestic and international speakers and scholars, cultural performers, and training and educational opportunities for student leaders.
To further bridge the distance between Stetson students and global experiences, we turn to modern technology as a useful tool. Such outreach with our global partners would include co-teaching with faculty who are overseas; creating student and faculty collaboration with international colleagues; leveraging international events to enable virtual participation; identifying our online library resources toward ensuring that all Stetson courses have an intercultural component; and providing enhanced research and interactive opportunities for our community, such as the School of Music projecting performances for international audiences.
Other Campaign Priorities