The Health and Science Initiative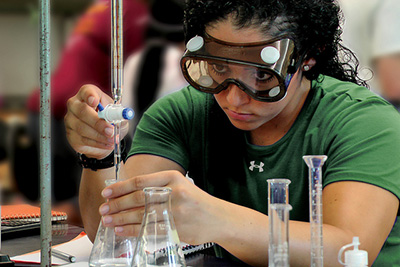 Meeting Florida's Health and Wellness Needs
The demand for graduates in both science and health outpaces supply – in the state of Florida, there are more than 55,000 unfilled jobs in science and technology. As America ages, health care is projected to be the fastest-growing sector of employment through at least 2026. Quality patient care and support for caregivers are essential. The need is great, and the demand is there: In fact, at Stetson, the largest area of interest among students looking at our university is in the sciences.
Nearly 70% of our students come to Stetson from within the state of Florida, and projections indicate that an investment in the sciences at Stetson will bring more students to our doorstep, where science and non-science majors alike will find an array of strong academic programs that suit their interests and aspirations. In addition, more than half of our graduates still reside in the State of Florida, and most of those remain in close proximity to our campuses – more than 7,000 in our tri-county area, in fact.
Visioning for the Future
"[A recent significant and transformational gift to Stetson is creating] pathways to expansion and innovation in the sciences and health that we have sensed but are not yet visible to us," says Noel Painter, Ph.D., provost and executive vice president. "We will be actively working with faculty, facility and professional experts to make this investment in Stetson powerful for our community." What has evolved since that gift announcement is the breadth of the impact we expect to have from this gift. Beyond a new health and science facility, the expansion for Stetson will take the form of the following:
(1) partnerships with health and hospital systems;
(2) curriculum (revision of current curriculum, bolstering of student experiences, consideration of new certificates or undergraduate and graduate programs); and
(3) the impact on health care and health study in Central Florida (whether through population health study, research on aging, opportunities for student interns, continuing education for hospital workers through Stetson, and more).
Currently, studies are being done regarding the demand for graduate science education; conversations are scheduled with important partners in the healthcare industry; science and health consultants are coming to campus to assist with planning; and a health summit is being considered for next year on our historic campus in DeLand.