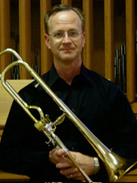 Kelli Suzzan Schmidt Memorial Endowed Music Scholarship
The Kelli Suzzan Schmidt Memorial Endowed Music Scholarship
To honor the legacy of Associate Professor David A. Schmidt
May 2022 marks the retirement of David A. Schmidt from the Stetson University School of Music after a 36-year career. During that time, he has made Stetson and DeLand his artistic home and has become a treasured member of our community. A coalition of supporters is partnering towards a $30,000 gift total to endow a new scholarship in his honor and is offered in the memory of his daughter, Kelli Suzzan Schmidt.
David Schmidt was an associate professor of music at Stetson University where he taught courses including Applied Low Brass lessons, Brass Music Education Methods, and conducted the Stetson University Trombone Choir. He also coached chamber music and served as the coordinator of the brass and percussion department and director of the Stetson University brass camp. Prior to his appointment at Stetson University, he also taught low brass and conducted bands, orchestras and jazz bands at various institutions, including the University of Saskatchewan, the University of Northern Colorado, the University of Texas - Arlington, Brevard Community College, Daytona State College and Bethune-Cookman College.
Schmidt received his bachelor of music education and music performance degrees from Baylor University and his master of music degree in performance from the University of Northern Colorado. His past teachers include Gordon Sweeney, Andrew Russell and Buddy Baker. As a trombonist, he was a founding member of the Dallas Wind Symphony and has performed with numerous regional bands and orchestras in the United States and Canada.
A respected pedagogue, Schmidt is a frequent clinician and adjudicator at regional and state levels. He has been named Teacher of the Year by the Music Advisory Council at Stetson University on three separate occasions. Many of his students have won awards at local, regional and international solo competitions, including those sponsored by the International Trombone Association, the International Tuba and Euphonium Association, the Leonard Falcone International Euphonium and Tuba Festival, the Eastern Trombone Workshop, and the Canadian Broadcasting Corporation. Many of his former students are currently successful music educators, college professors, or members of military bands and professional orchestras. Other students have been accepted at prestigious graduate institutions such as Julliard, Yale University, Cincinnati Conservatory of Music, New England Conservatory of Music, Oberlin Conservatory of Music, University of Missouri-Kansas City Conservatory of Music, Lynn Conservatory of Music, Shenandoah Conservatory of Music as well as at the University of Miami, Southern Methodist University and Rice University.
Under his direction, the Stetson Trombone Choir was selected to perform two concerts at the International Trombone Festival held at Columbus State University in Columbus, Georgia.