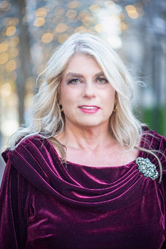 Jane Fowler Christeson Legacy Endowed Scholarship in Vocal Performance
May 2022 will mark the retirement of Jane Fowler Christeson from the Stetson University School of Music after a 32-year career. During that time, she has made Stetson and DeLand her artistic home and has become a treasured member of our community. A coalition of supporters is partnering towards a landmark $50,000 gift total to endow a new scholarship in her honor.
This endowment will provide scholarship funds in perpetuity to be awarded to annually assist a student through financial aid who is a pursuing a Bachelor of Music Performance – Voice degree.
The scholarship is to be awarded for their senior year in the School of Music.
Eligibility criteria will be based on talent and ability of the student.
Jane Christeson received a Piano Performance degree with an additional major in English from the University of Alabama before receiving a fellowship to complete an MM in Vocal Performance. Since then she has had a varied career in opera, music theater, oratorio and recital work, performing over 40 roles with companies and orchestras around the United States. Twice a winner of the District Metropolitan Opera Council Auditions, she has appeared in roles with Opera Grand Rapids, Cincinnati Opera, Orlando Opera, Alabama Opera Theater, Whitewater Opera, Treasure Coast Opera, and Palm Beach Opera. Active as well in musical theater, she performed roles in several cities in the Midwest and locally in twelve productions for Seaside Music Theater, including the title role in Menotti's The Medium.
Prof. Christeson has performed as soloist with the Alabama Symphony, Pomereggio Musicale of Palm Beach, the Orlando Messiah Society, and several other orchestras and choral societies in Florida and the Midwest. She has been heard on National Public Radio with the Cincinnati Chamber Orchestra, Vocal Arts Ensemble and the Cincinnati Opera. She has also performed with the Stetson Opera Theater in Bulgaria, toured Scandinavia as soloist with combined choral societies and was the mezzo soprano soloist in the Duruflé Requiem at the Caen Cathedral in Normandy commemorating the 75th anniversary of the Normandy invasion. She has recorded two solo CDs (songs of Inocente Carreño and Johannes Brahms) and appears on two others as mezzo soloist.
Over several years when the London Symphony was in residence in Daytona Beach, she was asked to write reviews of satellite concerts for the Daytona Beach News Journal and wrote featured articles. For over twenty years Ms. Christeson was the pianist and then Choir Director at Port Orange Presbyterian Church, and is currently serving as Music Minister at First Presbyterian Church of DeLand.
Prof. Christeson began teaching as an Adjunct Instructor of Voice at Stetson University in 1990 and became an Assistant Professor in 1996, where she taught various courses, including Senior Seminar, Career Skills, a Freshman Seminar in Opera and German Diction; she assisted with the opera program and then directed the Stetson Opera Theater for six years. As Professor of Voice, she maintains a voice studio and teaches courses in Song and Opera Literature, and has developed several experiential courses in special topics.