Earth Week
This year marks 50 years since the first Earth Day celebration in 1970. Caring for our planet starts with you. Help us celebrate Earth Week at Stetson!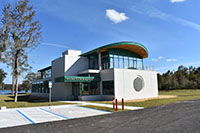 Seed grant support for student and faculty research that relates to water resource protection and conservation.
Support for constructing and maintaining native plant gardens and other environmental education features at the Sandra Stetson Aquatic Center.
Development of special outreach events in support of water resource protection and conservation.
Support for student and faculty travel to professional meetings.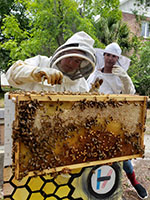 Sustainable food systems is an interdisciplinary academic program with partners across campus and throughout the region. In our classes, students learn about a variety of topics including agricultural production, food and the environment, nutrition and public health, food communication and media, food policy, food history and much more! Through our interdisciplinary approach to food systems education, students develop skills of critical analysis that enable them to examine the complex food system on which we all depend from multiple perspectives. Hands-on, experiential learning is a central part of the sustainable food systems program. Students participate in the on-campus garden project, Hatter Harvest, and learn about sustainability initiatives in Campus Dining Services. Through the FOOD 102 practicum course, all sustainable food systems minors spend a semester with a community partner working to change the food system for the better.
Donations to the Sustainable Food Systems program will support our experiential learning opportunities by providing funds for hands-on lesson supplies, field trips, and for maintenance of our teaching garden. Gifts will also help fund student research projects, as well as student travel to academic and professional food systems conferences.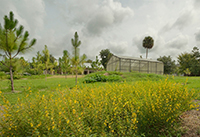 An urban restoration of a sandhill, longleaf pine ecosystem, this site offers a complex and valuable natural beauty on campus, a unique teaching landscape, and a place of ongoing collaborative research.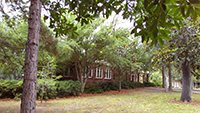 Over twenty years ago the museum grounds were established as a native landscape, to demonstrate the biodiversity and beauty of native Florida plants. A guided tour brochure, with signs in the landscape, introduce visitors to over 350 trees and large shrubs representing 52 species, a small arboretum which has flourished without the additions of fertilizers, biocides, or irrigation.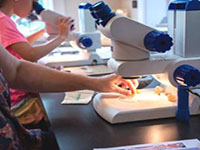 Education about the earth and environmental responsibility has been at the core of the Gillespie Museum's mission for sixty years. Science Saturdays and Science Café's, special exhibits and museum displays, along with active educational programs for K-12 students connect the environmental work of the Stetson campus with our community.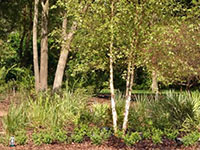 Background: Following an unusually harsh hurricane season in 2004, a group of faculty, led by members of the Environmental Responsibility Council proposed a campaign to raise funds for replacing damaged trees and then for carrying forward the University's commitment to a native plants landscape. Gifts were solicited from faculty, staff, students, alumni, friends of the University, and supporters of its value commitments.
Funding: In spring 2005, a restricted fund was established through individual donations of any amount and through other fund-raising means devised by faculty, staff, and students with guidance from the Development Office. If at any point in the future, the Initiative receives a sufficiently large gift, the restricted fund could become an endowment providing continuing funding. which would be generated annually by interest, in accordance with Trustee policy. The fund will remain open and eligible for donations in perpetuity.
Purpose: The fund seeks to repair damage to the University's existing canopy of native trees & then to expand planting of native plant species. Specifically, the fund is to be used for these purposes:
a. To replace large trees downed or damaged by hurricanes and windstorms of 2004
b. To replace other trees at the end of their healthy lives (such as laurel oaks) with hardy native species ( such as live oaks)
c. To replace non-native invasive trees (notably camphor trees) with native tree species identified on the University's native plant list
d. To fund new native planting areas on campus, or to replace certain areas of non-native planting, including turf grasses, with native plants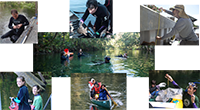 This fund was set up to provide long-term support for the development and maintenance of the aquatic sciences laboratory and field station at the Sandra Stetson Aquatic Center. Donations for this fund will be used to grow the endowment and increase the amount of annual fund distributions available for the purchase of aquatic science laboratory equipment, supplies, and maintenance.