Hollis Family Student Success Center Opened Fall 2015
August 2015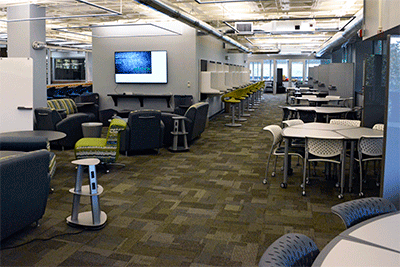 Stetson's Student Success Program, which began in 2010, has taken Stetson's dedication to student success to the next level. The new Hollis Family Student Success Center, located on the mezzanine level of the duPont-Ball Library, features nearly 4,500 square feet for mentors, group and individual study/tutoring spaces, and technology. Its services were previously scattered throughout campus.
Bringing our DeLand campus student support programs together in this way is creating synergistic areas for collaborative learning and tutoring.
"Our students are not coming to us with a blank slate," says Lua Hancock, vice provost, who oversees student success initiatives. "They are coming to us with roots, history and knowledge, and varied backgrounds, to a place where they will grow even further. In Student Success our symbol is the tree because we believe in the roots down and the growth up, and that a college campus is an amazing place to grow."
Student Success provides a range of deep, engaging learning experiences that lead to substantial personal and academic growth. This means everything from tutoring to internships. The approach focuses on the whole student, empowering them with the academic, social and financial know-how to succeed and become an effective global citizen and lifelong learner.
Former trustee Dean Hollis and his mother, Lynn Hollis, were on campus for a dedication ceremony in the beginning stages of the Center's transformation.
"It was humbling to see all the people who care so passionately for Stetson, but especially for helping future generations succeed. We want to see students benefiting from the Stetson experience, by thriving and maturing in all aspects of their life. We want them to relish challenges, deal with obstacles and turn those obstacles into success."
See more here.