Cynthia C. Bennington
Professor of Biology
Cindy Bennington has conducted ecological research in Alaska, West Virginia, New Jersey and Florida. At Stetson, she teaches ecological and botanical courses and actively engages students in research on the ecology of arctic and temperate plant species. She also involves Stetson students in environmental service-learning projects both on and off campus. Currently, she and Dr. Karen Cole, the director of the Gillespie Museum, are leading an effort to plant trees and shrubs in an area adjacent to the museum, with the goal of establishing a "Teaching Landscape" that recreates a small portion of the longleaf pine ecosystem that historically dominated the sandhills of central Florida.
Education
Postdoctoral Associate, Princeton University, 1994-1996
Ph.D., West Virginia University, 1994
M.S., West Virginia University, 1990
B.S., West Virginia University, 1984
Course Topics
Ecology and Evolution
Flora of Florida
Plant Ecology
Environmental Biology
Research Interests
Gender expression in passionflower (Passiflora incarnata)
Ant-plant mutualisms in passionflower (Passiflora incarnata)
Implications of ecotypic variation for the response of tundra plants to climate change.
Publications
Bennington, C. C., N. Fetcher, M. C. Vavrek, G. R. Shaver, K. Cummings and J. B. McGraw. 2012. "Home site advantage in two long-lived arctic plant species: Results from two thirty-year reciprocal transplant studies." Journal of Ecology 100(4): 841-851.
Bennington, C. C. 1996. "Environment-dependence of quantitative genetic parameters in Impatiens pallida." Evolution 50:1083-1097.
Bennington, C. C. and D. A. Stratton. 1998. "Field tests of density- and frequency-dependent selection in Erigeron annuus." American Journal of Botany 85(4): 540-544.
*Konstantinidis, N., J. Duffy, and C. C. Bennington. 2010. "Biological defense in Passiflora incarnata: Evidence for a chemical defense against ant defenders." Florida Scientist. 73:1-9.
*Mondo, P., *K. D. Marshall Mattson, and C. C. Bennington. 2010. "The effect of shrubs on the establishment of an endangered perennial (Asclepias curtissii) endemic to Florida scrub." Southeastern Naturalist9(2): 259-274.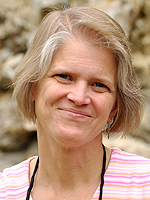 Contact Information