Community Partners
At the CCE, we strive to develop truly collaborative partnerships. As we connect students with community partners, we work to develop opportunities that are mutually beneficial to both students and the community.
We value the knowledge, resources and time our partners share with our students, and we see our partners as co-educators of students. We value the time and energy our partners dedicate to working with Stetson students and hope that the work of students will be of benefit to your organization.
Resources for Community Partners
Global Citizenship Fair
The Global Citizenship Fair is co-hosted by the Center for Community Engagement, WORLD: International Learning, and the Office of Career and Professional Development. It is an opportunity for students to learn more about study abroad programs, internships with non-profit agencies and volunteer opportunities with local community partners.
Look out for more information on the the Fall Global Citizenship Fair in September
Look out for more information on the Spring Global Citizenship Fair in January.
Non-Profit Leadership Summit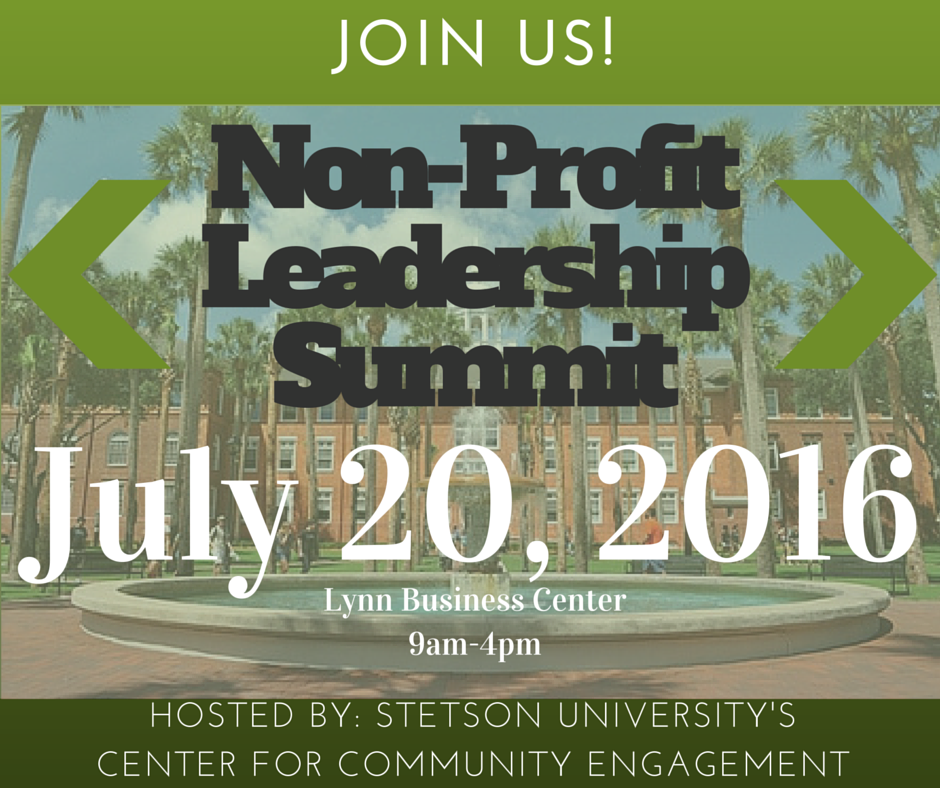 Keynote Address: We will have a speaker present for an all group session to talk about an issue prominent to Volusia and Flagler Counties and/or non-profit management.
Workshops: 3-4 breakout sessions where you can learn about of variety of topics facilitated by Stetson staff, faculty, community members and fellow community partners. Topics can included internships, social media, data assessment, grant writing, program management.

Get Involved: We encourage you to submit a workshop proposal to facilitate at the summit
Networking: We will provide the food for a networking lunch and activities to get to know other community partners and Stetson faculty, staff, and students.
Save the date: July 20, 2015 (registration will open in June).
Greenfeather
Greenfeather is one of Stetson's longest and deepest traditions, establish in 1952 as an autumn charity carnival. Greenfeather has grown immensely since its debut, going into its 64th year, Greenfeather is now fully embedded into Stetson Homecoming transforming it into a weeklong event encompassing more fundraisers and community service opportunities that showcases Stetson's commitment to philanthropy. Learn more about the Greenfeather tradition here.
In the past, Greenfeather encouraged the Stetson community to raise enough money for 10 selected nonprofit organizations in Volusia/Flagler counties to receive a $1,000 grant. Now, a committee composed of students and staff selects one non-profit organization to receive a $10,000 grant for a capacity building project. The change allows the grant to make a larger impact with the selected recipient and gives the recipient an opportunity to be highlighted throughout the Homecoming/Greenfeather festivities.
Past Recipients:
Click here to see a sample of the Greenfeather Grant Application
Community Engagement Banquet
At the end of the academic year we host a luncheon at the Chisholm Community Center recognizing extraordinary accomplishments that Community Partners, Students, Faculty and Staff have done throughout the year.
Community Partner of the Year
New Community Partner of the Year
Extraordinary Act of Service Award (Program/Student)
Volunteer of the Year (Student)
Excellence in Community-Engaged Learning (Faculty)
Giving Tree Award (Staff)
You may submit nominations through this link.
Nominations for the 2015-2016 recipients of these awards is ongoing and will close on March 20, 2016
Internships
The CCE works closely with the Office of Career and Professional Development to establish and support non-profit internships for Stetson Students. Visit the "Employers" section of stetson.edu/career to learn more about how to start an internship and internship posting policies.
Intern vs. Volunteer: Know the Difference!
Internships

Volunteerism

Focus of Effort: Learning; practicing skills for future career/work in a specific field
Time Commitment: 10-20 hours/week (paid or unpaid)
Supervision: Supervised by an "expert" in the agency; graded by supervising professor in sponsoring academic department

Focus of Effort: Service; meeting identified agency or community needs; any work may be done, as long as it helps someone
Time Commitment: Varies according to desires of volunteer and needs of agency
Supervision: By agency personnel; no grade given.
Upcoming Opportunity!
Smart Move: Developing a Quality Internship Program
Thursday, March 17th, 9:00-11:00am
Stetson University, Carlton Student Union (Stetson Room)
Light Breakfast Provided
Register here by February 29th!
Have you wondered how to start or improve an internship program that will assist you and educate students? Have you wanted to help with workforce development but don't know how? Have you considered the benefits to your organization of hiring interns?
Help is here. The staff from The Center for Community Engagement and Career & Professional Development at Stetson University invite you to an interactive session with Mr. Michael True, Senior Associate for Talent Development & Marketing in the Career & Professional Development Center at Messiah College in Mechanicsburg, Pennsylvania. Mike has worked in the field of internships for over 25 years and recently released a new edition of his employer manual on internships, which is currently being used by hundreds of colleges, universities, employers and chambers of commerce across the United States and internationally.
This session is for employers who are at the beginning stages of developing an internship program, as well as for those looking to enhance existing programs. Topics will include:
Benefits to employers for hosting interns
What interns want
Legal Issues
Marks of Excellence
Supervising and providing feedback to interns
How to best partner with colleges/universities
Come to learn and network with your colleagues. Together we can develop mutually beneficial relationships for Stetson students and your organizations through the power of internships! We look forward to seeing you!
For more information contact Veronica Hernandez, Community Partnership Coordinator at veronicahernandez@stetson.edu