Private Lessons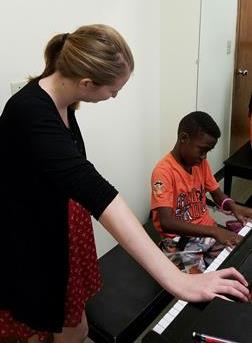 **Registration for Spring 2018 has closed. Lessons may be available on a case by case basis. Please email communitymusic@stetson.edu to inquire.***
Individual lessons are the best way to learn a new instrument or advance your musical skills! Through our connection with the Stetson University School of Music, we are able to offer lessons in an incredible array of instruments, including:
Piano
Guitar
Voice (for students 15 and older)
All orchestral instruments, including:

Violin
Viola
Cello
Clarinet
Flute
Trumpet
Trombone
Percussion
and much more!
You have the option to work with a current Stetson undergraduate music student, or with a professional community teacher. Either way, you will receive excellent, personalized musical instruction.
Registration for our full spring session (which includes 13 lessons) will be open from Dec 1 through January 15. Lessons may begin as early as December 1. After January 15, you may register for an abbreviated session of eight lessons.
Full Spring tuition (13 lessons): $260 with a degreed musician | $205 with a student
Abbreviated session tuition (8 lessons): $170 with a degree musician | $135 with a student
Location: All lessons are held in Presser Hall
Day and Time: Lessons are scheduled on an individual basis between each student and their teacher. Once you've registered, your teacher will contact you to set up a convenient time for weekly lessons.
Hour-long lessons are available for advanced students. Not sure if you should sign up for hour-long lessons? Talk to your teacher, or e-mail the Community School of Music office at communitymusic@stetson.edu.
More Information
For more information about where to park, how lessons are scheduled, our cancellation policy, and more, please check out our FAQ page.
You may also contact the Community School of Music office at communitymusic@stetson.edu or (386) 822-8962.