International Law - Meet Our Students
2016-2017 Exchange Students

Elena Blanco-Ons Navares
Spain

Elena Blanco-Ons Navares is a fourth-year student in a double degree program in law and business administration from the Universidad Pontificia de Comillas in Madrid, Spain. She believes that the experience of studying at Stetson Law will provide her with a great opportunity to expand her legal knowledge, particularly in international business law. Blanco-Ons Navares hopes to meet new people but also to learn about different cultures and the U.S. legal system. After completing her law and business studies, she aspires to become a corporate lawyer in Spain.



Jesrica Gill
United Kingdom

Jesrica Gill is a second-year law student at the University of Leicester in England. Her legal interests are in international law, and she hopes to enhance her professional development as an aspiring litigator through the exchange program at Stetson Law. She is thrilled to have the opportunity to study the U.S. legal system and experience American culture first hand. She holds a strong belief in justice and wishes to convey her passion through actively advocating and enthusing change for the better.



Bartosz Kubiak
Poland

Bart Kubiak comes to Stetson from Poland via the United Kingdom, where he is currently completing his law degree at the University of East Anglia (UEA). He has a special interest in public international law, advocacy, and his niche – space law. He intends to use his time at Stetson to complete independent research on the topic of space law as he finds the specific field underdeveloped. He would also like to further his advocacy skills and engage in the Stetson legal aid and bar community. In the future, he would like to work in an intergovernmental organization or as a litigation lawyer. He has worked as an intern at the think-tank Polish Institute of International Affairs, and as lobbyist in one of the most important lobbying agencies in Europe. Apart from that he has worked as a tribunal advocate in the Norfolk Community Law Service and represented poor people in welfare benefits claims. He often engages in pro bono activities – for two years he was a caseworker in the Justice Project, an organization that prepares appeals in heavyweight criminal cases for people who cannot find legal aid. He is also active in legal competitions. At UEA, his team reached the semi-finals of Advanced Mooting this past year.




Itziar Merino
Spain

Itziar Merino is a fifth-year law and business administration student from the Universidad Pontificia de Comillas in Madrid, Spain. Her main legal interests are in international business law and corporate law. As an exchange student in Paris, France, she acquired a high understanding of international contract law. Furthermore, she interned in a small law firm in Madrid where she gained direct experience with mergers and acquisitions. She believes that her Fall semester at Stetson will not only enable her to expand her legal knowledge and understanding of U.S. law, but also improve her communication skills. After completing her law studies, she plans to combine her economics and legal background to become a mergers and acquisitions lawyer in Spain.




Wayne Perera
Australia

Wayne Perera is in his final year of law school at Victoria University in Melbourne, Australia and will be completing his final semester at Stetson. He has previously studied in The Netherlands and took a keen interest in international law, especially as it concerns international human rights. He also has an interest in advocacy and looks forward to enhancing his advocacy skills at Stetson. Before arriving at Stetson, he interned at the Office of Public Prosecutions in Melbourne and has past experience in family, criminal and property law. He plans to become a barrister later in his career and hopes to join the bar after gaining a few years of experience practicing law.



2016-2017 Master of Laws (LL.M.) Students

Laura L. Anderson
United States
Laura Anderson is a graduate of the University of the South: Sewanee in Tennessee with a B.A. in British History and a 2016 graduate of Stetson College of Law where she earned her J.D. and concentrated in international law. She believes that an LL.M in International Law will provide her with additional knowledge and experience that will be beneficial when she begins practicing law. When she is finished with school, Anderson wishes to be an international intellectual property lawyer.




Lewis E. Christman IV
United States

Referred to as Troy, he was born and raised in Jacksonville, Florida, and lived most of his life in the Sunshine State. He attended the University of Florida for undergraduate education and completed his Juris Doctorate at Stetson Law. He would like to use his LL.M. degree to further his goal of working in international law. International law and corporate/business law are his legal passions, and he hopes to one day find work that involves both. He has traveled pretty extensively in Europe, as well as parts of the Caribbean. He loves to see new places and meet new people.




Maria Colonia Medina
Colombia

Maria Colonia Medina is from Colombia and received her law degree at the Universidad de San Buenaventura in Cali. She further specialized in administrative law and worked in government institutions such as the Treasury Department and the General Attorney's Office. While in these positions, she held different roles which enhanced her professional background. These experiences inspired her to work as a private attorney in Colombia. She has also worked as an immigration paralegal in nonprofit organizations in the United States and is currently working at Maney, Gordon, Zeller, P.A. in the immigration field in the Tampa Bay Area. She hopes that completing a degree at Stetson Law will open doors and help her achieve her ultimate goal of becoming an attorney in the United States.




Ishrat ("Riya") Khan
United States

Riya Khan hails from Altadena, California where she spent most of her life. She has a Bachelor of Science in Psychology and Juris Doctor from Western Michigan University Cooley Law School. While at Cooley Law, Khan worked with attorneys practicing civil rights, immigration, asylum, elder law, and family law involving domestic violence. Khan realized her true passion for international law with a special interest in international humanitarian law during a summer study abroad program in Geneva, Switzerland. An LL.M. degree in International Law from Stetson will build her skills and help her pursue a career in the United Nations. Currently, Khan is fluent in four languages and proficient in two. Khan's educational and cultural experiences at home and abroad have broadened her horizons, and she looks forward to sharing her experiences with and learning from her classmates and friends.




Hilal Sezen Kose
Turkey

Hilal Sezen Köse comes to Stetson from Turkey. Before arriving at Stetson, Köse completed an externship with an immigration law firm in downtown Tampa. Her passion is to help citizens of the world gain their fundamental human rights. This passion brought her to Stetson where she hopes to gain a better understanding of varying international legal systems. She is especially interested in helping immigrants with their legal issues. Köse wants to have an impact on future generations. One day she hopes to return and make big changes in Turkey.




Franziska Kues
Germany

Franziska Kues is from Germany and completed her first state examination at the University of Münster in Germany, where she specialized in international law. She is also a scholar of the Konrad-Adenauer-Foundation, which awards scholarships to students and graduates of exceptional academic achievement and outstanding political or social commitment. During her studies in Germany, Kues worked as a freelancing journalist in online and print media. At Stetson, Kues hopes to expand her knowledge in the field of international law, especially concerning legal issues crossing borders and between the United States and Europe as well as to improve her legal writing skills in English. In the future, Kues would love to work in an international setting.




Anna Liedl
Germany

Anna Liedl received her bachelor`s degree in management and technology at the Technische Universität München in Germany. During her studies, she developed an interest in law after taking several legal courses. She knows that her time at Stetson Law will give her the opportunity to combine international law with her technological and management background. She will use the broad variety of classes to specialize in international management. For her professional life, she is planning to work for a global interacting company to combine her knowledge in the law, management and chemistry sector.




Roxane Olivier
France

Roxane Olivier obtained dual Bachelor of Law degrees in French law and British and American law conducted in their respective languages from the Université Toulouse 1 Capitole. She spent a year as an exchange student at the University of Nottingham in the United Kingdom, which heightened her desire to study and work at an international level. She is now pursuing a master's degree in International and European Law at Université Toulouse 1 Capitole and the LL.M. in International Law from Stetson Law as an exchange student. She hopes one day to become an international business lawyer, and pursue her passion for international and comparative law.




Julius Ott
Germany

Julius Ott attained his bachelor's and master's degree at the Technische Universität München in Germany in Technology and Management. He has practical experience in the areas of intellectual property, real estate and energy economics and has conducted research on global natural gas markets. In 2015, he presented this research at an international energy economics research conference in Graz, Austria. The LL.M. in International Law will enable him to deepen his legal knowledge in international business and intellectual property laws and gain an understanding of the American legal system. After the LL.M., he plans to work in consulting or mergers and acquisitions.




Juliette Tastet
France

Juliette Tastet is from Bordeaux in southwest France. After high school, she had a strong motivation to become an international lawyer and desired to live an international life. Therefore, she participated in a dual bachelor's degree program in English law and French law and graduated from both Toulouse University, France and Essex University, England. She believes this one-year experience will be a great opportunity to study the American legal system. She plans to specialize in family law and international private law. She is looking forward to her practical experience with a law firm this spring. Her ultimate goal is to be a lawyer specialized in private international law in both Europe and the U.S.




Tobias Wetzel
Germany

Tobias Wetzel is currently enrolled in the second semester of a master's program at the Technische Universität München in Germany, majoring in management and mechanical engineering. In order to improve his current skillset, he expanded his background with a third emphasis in international law. He would like to focus on international business law especially in the subjects of transactions and security. He believes these three focuses will pave the way to an internationally organized company possibly in the automotive, consultancy or investment banking industries.




Lukas M. Wienke
Germany

Lukas Wienke just recently graduated this summer with his bachelor's degree in Management and Technology at the Technische Universität München in Germany. His passion for international law and corporate law stems from his economic background, which focuses on the impact of global transactions. He believes that by pursing his LL.M. degree with an emphasis in international business law he will be prepared for the demands of a corporate profession. His management and technology studies combined with an intensive legal education will create the interdisciplinary foundation to meet the needs of modern leadership positions.



2016-2017 Accelerated J.D. for Foreign Attorneys

Tewodros Mengistu
Ethiopia/U.S.
Tewodros Mengistu earned his LL.B. degree from Haramaya University College Law in Ethiopia in 2008. He served as a public prosecutor in Ethiopia for Addis Ababa City Administration for five years and then he received his license from the Ministry of Justice of Ethiopia with capacity to practice law at all levels of federal courts, including the highest court of the country. Mengistu moved to the U.S. in 2014 to continue practicing law, and joined the ideal program with Stetson's Accelerated J.D. He is now a 2L Accelerated J.D student, expecting to graduate in May 2017, and intends to specialize in immigration law and international business law.



Symone Neil-Robinson
Jamaica/U.S.
Symone Neil-Robinson received her Bachelor of Laws from the University of London in 2007. She graduated from the Norman Manley School of Law in Jamaica in 2012, and was called to the bar as an attorney-at-law in that year. As an attorney, she has practiced in the areas of criminal law and real estate and probate, and also performed legal aid services for citizens of Jamaica unable to afford an attorney. She is a trained teacher who taught for 13 years and as such will include family law as an area of specialization.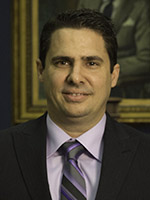 Javier Ojeda Chenard
Cuba/U.S.
Javier Chenard earned a bachelor's degree in law from the University of Havana in 1999. After graduation, Chenard worked as a legal advisor for the economic director of the Office of the Historian of Havana where he prepared and negotiated contracts and advised more than 5,000 employees and the community on a variety of legal issues. Later, he joined the U.S Army where he served as a chemical, biological, radiological and nuclear specialist, and he completed his term with numerous awards and medals. In 2015, he received his LL.M. in International Law from Stetson University College of Law, and is currently enrolled in the Accelerated J.D. for Foreign Attorneys program. He is excited to broaden his skills and knowledge to apply them with the opportunities of employment arising with the new U.S.-Cuba relations.




Natalia Reyna
Colombia/U.S.
Natalia Reyna earned her bachelor's degree in law from the Universidad Externado de Colombia in 2002 and LL.M degree in insurance law from the University of Connecticut School of Law. After her graduation, Reyna worked as a plaintiff's lawyer dealing with class action litigation for Drubner, Hartley & O'Connor LLC. In 2015, Reyna received her LL.M. in International Law from Stetson University College of Law and is currently enrolled in the Accelerated J.D. for Foreign Attorneys program. As a J.D. student, Reyna has served as a judicial intern for the Florida Sixth Judicial District, Appellate Division and as an intern at Moffitt Cancer Center, General Counsel's Office. Reyna is also the president of the International Law Society at Stetson and an associate editor for the Stetson Law Review. After graduation, Reyna plans to work in the area of international law.



Delia Patricia Sandoval
Honduras/United States
Delia Patricia Sandoval earned a bachelor's degree in law from the Universidad Nacional Autónoma de Honduras in 1997. Achieving a family law orientation, Sandoval was one of the most prominent legal representatives for an international adoption agency, successfully completing, supervising, and directing more than 100 adoptions and counting. Sandoval earned an LL.M. in International Law from Stetson in May 2016, and is now furthering her legal comprehension by focusing on her studies in the Accelerated J.D. for Foreign Attorneys program and expects to graduate in 2018.




Jose I. Garcia Valderrama
Venezuela
Jose I. Garcia Valderrama received his law degree from the Universidad Católica Andrés Bello in Caracas, Venezuela, where his thesis for his Master in Trial Law is currently pending also from the Universidad Católica Andrés Bello. Since 2007, Valderrama has served as a legal advisor at Venepesca Corporate Group in Venezuela, serving as the sole trial attorney in charge for eight different corporations dedicated to the fishing of tuna in international waters. Valderrama also serves as a senior partner at Escalona, García Law Firm in Venezuela, where he practices in the areas of civil law, family law, administrative law, landlord and tenant law, and business and corporate law. Valderramae is admitted to practice before the Venezuelan Supreme Court of Justice where he has been litigating ever since and is an active member of the State Bar of Sucre State since February 1998. He is currently pursuing his J.D. degree through the Accelerated J.D. Foreign Attorneys program at Stetson and expects to graduate in 2018.
2016-2017 Traditional J.D. for International Students

Steven Badger
Canada
Steven Badger is currently a 3L student in Stetson's J.D. program. He attended the University of Toronto in Canada before moving to Florida in 2012 and graduating with his bachelor's degree in political science from the University of South Florida in Tampa and St. Petersburg in 2014. In Canada, Badger served on political campaigns and as an aide to members of the Canadian Parliament, including the Attorney-General of Canada. He recently interned with the Office of the Public Defender for the Tenth Judicial Circuit of Florida. He has also completed an internship with the Federal Public Defender for the Middle District of Florida in their Tampa division. He is a member of the Bruce R. Jacob Criminal Appellate Inn of Court. Upon graduation from law school, Badger intends to practice as a criminal defense attorney.




Alexander Busvek
Canada
Alexander Busvek grew up in London, Ontario, Canada. He attended the Richard Ivey School of Business at Western University and graduated with an Honor in Business Administration (HBA). Busvek is a first-year law student and is excited to be part of a well renowned academic community. While Busvek is committed to learning the American legal system, he is also interested in getting involved with student organizations and pursuing internship opportunities. He is interested in pursuing a career in the field of corporate and securities law.




Veselin Katsarov
Bulgaria
Veselin Katsarov is a third-year student pursuing a J.D. degree at Stetson University College of Law. While at Stetson, Katsarov is striving to utilize his previous work experience, education, and language skills to build a strong professional network in Florida and become a licensed attorney in the state.

Katherine Simonson
Canada
Katherine Simonson grew up in Calgary, Canada. She attended Northwood University in Midland, Michigan where she majored in international business, finance, and business management. At Northwood, Simonson captained the track team for four years, competing in the 400-meter hurdles and breaking the school's record in that event. Simonson also won conference championships and was a NCAA qualifier. Simonson attended Argosy University in Tampa for her MBA and graduated sigma beta delta international honors. Katherine is participating in the Stetson/UEA exchange program with the University of East Anglia Law School in Norwich, United Kingdom, where she is earning her Masters of Law degree. While at UEA, Simonson is playing soccer for Norwich FC in the women's premier soccer league. Katherine will return to Stetson next year to complete her J.D. After Stetson, Simonson plans to practice corporate international law.